Six Nations 2018: Scotland's Stuart McInally rues errors against Wales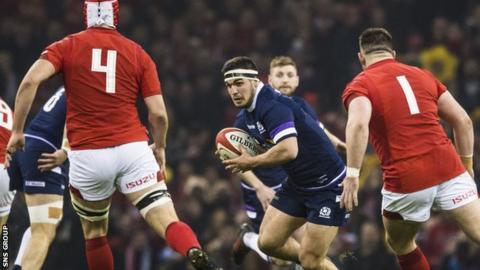 Scotland must eradicate the mistakes that proved so costly in the Six Nations opener against Wales, says hooker Stuart McInally.
The Scots had high hopes of a first win in Cardiff since 2002 after crushing Australia and running New Zealand close in November.
But Wales cruised to a 34-7 victory, punishing early lapses.
"A lot of the points were our doing, our errors, so that is something we need to look at," said McInally.
"We know we are so much better than that. I think that's where the frustration comes from.
"We weren't accurate enough. Wales played really well and we didn't, so they deserved to win."
Wales scored two converted tries during the opening 12 minutes, with Scotland unable to respond until a late Peter Horne try.
"We speak a lot under the posts when we concede a try, whether it was our doing or them doing something special," said Edinburgh's McInally. "It was all from our mistakes.
"We actually played some really good rugby when we held the ball. We just couldn't convert that into any points.
"We didn't hold on enough and, if you don't look after the ball well at this level, you are in trouble. The Six Nations is ruthless, you need to take your chances.
"I had a squint line-out, I dropped the ball. I think everyone had a couple.
"That equates to 20 or 30 mistakes in a game, so it's not a surprise that we lost."
France visit Murrayfield next Sunday having denied Ireland a single try in Paris but losing out to a last-gasp drop-goal from Jonny Sexton.
"We'll regroup and try to be better next week," said McInally, who was making his first start in the tournament.
"We spoke a lot in the dressing-room about putting some action behind our words.
"We need to make sure we never perform like that again. We've let everyone down. We know how passionate our supporters are.
"I know the boys are itching to get their heads over the laptops and study our individual games. We want to get better. We want to win next week."
Analysis - former Scotland prop Peter Wright
Wales played very well, but Scotland were naive. It was almost like we were chasing the game from minute one.
There was a lot of width early doors, which is a bit of a gamble in international rugby. You've got to earn the right to play with width.
With hindsight, it's easy to say, but I thought some of the selections were interesting.
There was no Plan B. We didn't have the personnel to make the hard yards.
There were lots of silly errors and you can't legislate for that. But I think it's a blip. They will be back against France.