Six Nations: Scotland 'must be better' away from home - Gregor Townsend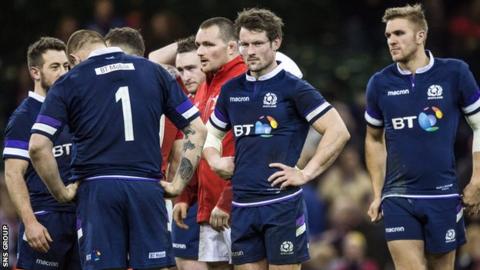 Scotland must become a tougher proposition away from home if they are to become Six Nations contenders, says head coach Gregor Townsend.
The Scots crumbled in the face of a ferocious Wales onslaught to go down 34-7 in this year's opener in Cardiff.
The capitulation was worryingly similar to the record defeat Scotland suffered at the hands of England last season.
"We don't have a great away record, there's no getting away from that," Townsend said.
"I read the stats on the Six Nations and we have to get better. We have to realise that teams will have moments when they're doing well, when the crowd's behind them and when they maybe score a try, so we've got to handle that. We've got to be better."
Scotland have not registered an away win in the Six Nations anywhere other than Italy since the last day of the 2010 championship, against Ireland in Dublin. They have only ever won six matches away from home in the tournament, four of which came in Rome.
They have won away to Wales, in 2002, and Ireland, in 2010, just once. The Scots have never won in England or France since the Five Nations became six in 2000.
The French travel to Edinburgh to face Scotland in round two, with England the next visitors to Murrayfield before Townsend's men end the campaign with back-to-back away trips to Ireland and Italy.
"We've got to find solutions when we go to Dublin and Rome, two very tough places to win," Townsend continued.
"Our focus over the next two games is playing at home and making sure that we put in a performance that makes our supporters proud. If that gets us two wins then brilliant, but we've got to make sure we perform much better, first of all."
Wales head coach Warren Gatland won the tactical battle as the red defensive wall completely nullified the Scottish threat, but Townsend is not about to rip up his side's expansive, attacking blueprint on the back of the setback in Cardiff.
"There's a part of the game that maybe we went too wide at times, but ultimately that was one element," he said.
"Other elements were that we lost ball at contact, made defensive errors, didn't win the ball at the line-out. So, you can't say, 'look we're running from our own line, that's why we lost'. There are times when we have to go forward and narrow a defence, give our forwards easier targets, but that's the way we play.
"This wasn't really a true representation of how we play in attack and how accurate we can be and how good these players can be."
Analysis - 'Reality check' for 'clueless' Scotland
Former England centre Jeremy Guscott told BBC Sport: "Scotland were clueless, in a way. They thought they could just go wide, wide, everything would open up and Wales would capitulate, but they didn't.
"You are always relying on the brains trust to say 'Look lads, we need to change things a little bit', but they just stuck to something they thought would work, without thinking about it and being smart. They deserved everything they got."
Former Scotland captain Andy Nicol told BBC Sport: "It was a reality check for Scotland. They played so well in the autumn, but they were just friendlies, even though they were playing the best teams in the world.
"This was championship rugby, and Wales had their game faces on, in every sense - tactically, physically. Scotland lost the physical battle and you cannot give yourself such a disadvantage in that space.
"They had one game plan, and when it didn't work, they had no Plan B. Their accuracy and execution just wasn't there.
"When they scored a try at the end, they played with a bit more directness, so if they get the balance right, they can do it."