Six Nations: Scotland must retain ambition and style, says Dan McFarland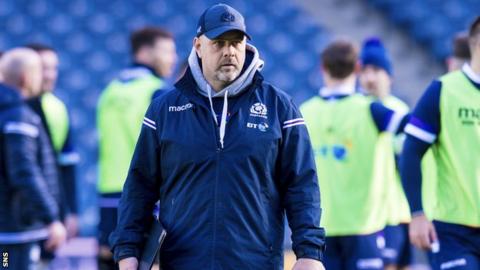 Scotland will not change their style of play despite losing 34-7 to Wales, forwards coach Dan McFarland says.
France visit Murrayfield in the second round of Six Nations games on Sunday and McFarland believes the Scots must stick to their principles.
"It's no good being conservative; conservative teams don't win great championships," McFarland said.
"Whatever you do, you need to be full on. Our style is ambitious; you do play at the edge and there are errors."
Head coach Gregor Townsend wants Scotland to play a quick, aggressive, dynamic style of rugby and there have been notable successes since he took charge of the national team.
Australia were beaten away during the summer tour and at Murrayfield during the autumn internationals. That raised expectation levels, but McFarland says the players can impose their game on France.
"They offer a different challenge," the forwards coach said. "Wales are physical as well, but France are bigger, they'll attack the breakdown hard.
"France have a lot of players who are able to get on the ball, so that will offer a different threat to us.
"Their style of defence, of putting people into the breakdown, often does create space, but we felt we found space against Wales, we just weren't accurate.
"We know we let ourselves down, we know we didn't play to the level that we have demonstrated that we can play at. There's a determination to show what we're really about.
"Gregor leads an environment where they are very positive, the standards are high.
"There's always going to be disappointment after events like that, but there is a determination to play well against France, who came within a cat's whisker of beating the third best team in the world [Ireland].
"It's the same in all international sport. You get knocked down and need the strength of character to go back at it the next week and find an answer."