John Barclay column: Scotland must put things right v France after 'hell' v Wales
Last updated on .From the section Scottish Rugby129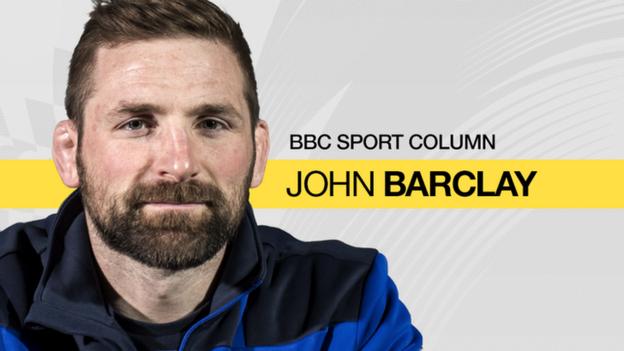 Six Nations Championship: Scotland v France
Venue:
Murrayfield, Edinburgh
Date:
Sunday, 11 February
Kick-off:
15:00 GMT
Coverage:
Watch live on BBC TV, Red Button, Connected TVs, BBC Sport website and mobile app. Listen on BBC Radio Scotland, BBC Radio 5 live, BBC Sport website and app. Live text coverage on BBC Sport website and app.
Sunday in Edinburgh is a chance to make amends for what happened on Saturday in Cardiff. It's about using the disappointment of Wales to help get our season on track, about restoring some of the faith that the supporters had in us before we produced that performance that shocked us all.
Saturday wasn't much fun, Sunday wasn't much fun, Monday wasn't much fun, nor was Tuesday. But sport is brutal and the schedule doesn't allow you much time to look back. We're getting on with it now. I was reminded earlier in the week that Wales got comfortably beaten by Ireland in Cardiff in the first weekend of the 2013 Six Nations and still went on to win the championship. That's not to say that we are going to win the championship, but it's a reminder that sometimes good teams have bad days.
I'll focus on the French game in a minute, but I should talk about some of what went on in Cardiff first. It was 14-0 but we were calm under the posts. We were creating opportunities with the ball. Our tempo was making life difficult for them. The message was clear; we needed to hold on to the ball. We have shown in the last 18 months that if we do that we can cause even the most organised defences trouble. Keeping hold of the ball was the issue and one forced pass turned into two, turned into three...
We had five attacking set-piece moves that we gave away on first phase. That was a killer. We had a 5m scrum and coughed it up first phase, had a 5m lineout drive and got turned over first phase. You can't do that at this level and expect to win. I would highlight New Zealand. They have one opportunity and they strike. That's why they are consistently the best team in the world and, in my opinion, what separates them from every other team in world rugby.
If we had gone in 14-7 or 14-10 it's a totally different game. I spoke to the Welsh guys afterwards and they said the same. Our inaccuracy with the ball made it so hard. We defended poorly as well; out of shape, lacking urgency and not sticking to our system. Wales didn't do anything that fancy when you look back on it. We just didn't test them defensively. We didn't make them work, didn't push them.
We'll get a better picture of where Wales are at this weekend. England will not defend as naively as we did. To be honest, I don't think we'll defend as naively as that again and it's hugely frustrating that we put ourselves through that.
I did think those heavy defeat days were over for us. We're all men, we can all take losing, but to lose like that is the worst feeling. It was frustrating, then, to hear Warren Gatland say he thought they'd beat us by 20. It's easy to say that afterwards. I don't think he believed that before the game, not for a second. Hindsight is always 20-20 as they say.
While doing this column, Jon Davies texted me to say that we'd just had one of those days and that we will be better for it. The Scarlets boys, while obviously delighted with their own individual and collective performances, were gracious in victory and despite the result it was great to see them after the game. There's a lot of mutual respect there. No bragging from them. They were in a similar boat to us after the game at BT Murrayfield last season. They knew how we felt because they'd felt it themselves. Every player goes through it. You just try to make sure you go through it as seldomly as possible.
We put it all to bed early in the week. We know we haven't become a bad team overnight but we also know that we cannot perform like that again. Individually and collectively, we have put a lot of thought into why it happened in an effort to make sure it never happens again.
'It's not rocket science'
As captain, I was thinking of what I could have done differently during the week, what I could have said differently on the pitch. You play things over in your head. We all do.
Gregor Townsend has made changes. Every game is a must win when you are lucky enough to pull on your international jersey. I believe this weekend takes on extra significance and I hope the spectators see that on the pitch. If you're serious about putting something behind your words you have to win your games. We're not out of this championship by any means. We firmly believe that.
It's not rocket science, it's not reinventing the wheel. We have to defend aggressively, we have to look after the ball. Rugby can be a very simple game. Look after the ball! We'll back our fitness against France, so look after the ball and we'll see a different performance.
They're a big team. If we let them into the game it will be a big problem for us. We need to show more urgency than we did in Cardiff. Urgency on the ball and urgency off the ball. France have a very good defence as they showed against Ireland on the weekend. Like us, they'll be hurting after losing to Ireland.
It was embarrassing to talk the way we talked before the Wales game and then to play the way we did. The best thing we can do now is put in a good performance against France, win the game and put ourselves in a situation where we're one from two going into the Calcutta Cup in Edinburgh.
We're going to stick together. Saturday was hellish but we have to put things right on Sunday.