Ian Robertson: BBC commentator to retire from broadcasting at the end of the year
Last updated on .From the section Rugby Union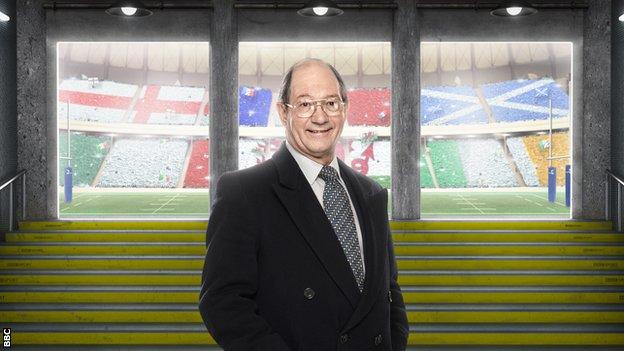 Legendary rugby union commentator Ian Robertson will retire at the end of the year, after 46 years with the BBC.
The former Scotland fly-half, 73, will call time on his broadcasting career after the 2018 autumn internationals.
Before that, he will commentate on Scotland's Six Nations match against England at Murrayfield on 24 February, 50 years after he made his Test debut in the same fixture.
Robertson became the BBC's official rugby union correspondent in 1983.
He won two gold awards at the Radio Academy Awards, including Speech Broadcaster of the Year, in 2004.
Robertson, who joined the BBC in 1972 and started his career reading horse racing results, has covered every Rugby World Cup since its inception in 1987.
"It's hard to choose my favourite moment as a broadcaster for the BBC as there have been so many highlights over the years," he said.
"From Scotland's 1984 and 1990 Grand Slams, to Jonny Wilkinson's 2003 World Cup-winning drop-goal, to interviewing Nelson Mandela in 1992 at a reception where press were banned - I've loved every minute of it.
"The autumn internationals will be my last international commentaries - which I'm really excited to be covering as New Zealand haven't played England at Twickenham for four years so it will be a great clash featuring the top two teams in world rugby.
"The fourth and final autumn Test will be England v Australia so it would be nice to go out on a repeat result of the 2003 England World Cup for my last commentary. It will be the perfect time to say thanks and farewell to a wonderful 50 years in rugby."
The BBC's director of sport Barbara Slater said: "Ian's sharp, instinctive and highly skilled commentaries have been a real privilege to hear on BBC Sport over the years and he has captured some of the greatest moments in rugby, which will be talked about for years to come.
"In fact, in a poll on Radio 5 live, Jonny Wilkinson's dropped goal was voted as one of the top three greatest sporting commentaries of all time. We at BBC Sport will miss Ian and we wish him all the very best in his retirement."