Six Nations 2018: Scotland 'have an awful lot to prove' in 'must-win' match v France

By Tom English
BBC Scotland
Last updated on .From the section Scottish Rugby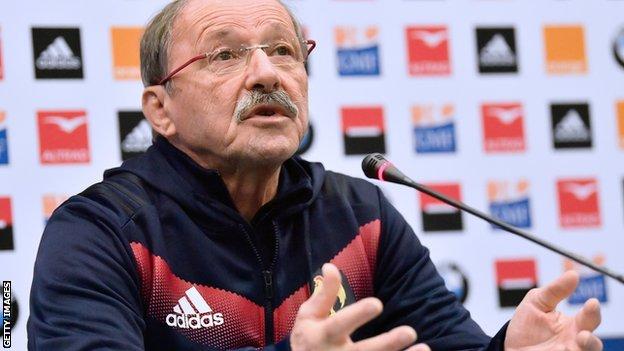 In Christchurch, New Zealand, 50 years ago this summer, France began an epic run of Test matches without a win; 11 in all. It was their most dismal sequence of results since the 1920s and the memory of it has recently resurfaced in French rugby.
Now that Les Bleus are on seven games without victory, some ghosts from the past are getting an airing. In terms of the bottom line, this is the worst they have been in half a century.
They're coming to Murrayfield on Sunday looking for their first away win in the Six Nations, outside of Rome, in four years. That was a two-pointer in 2014 in Edinburgh and it was fortunate. Scotland should have won that day. They blew it at the death.
France have deteriorated so badly that nobody, but nobody, fancied them to beat Ireland last week at the Stade de France. The bookmakers had them at 5-2 against on their own patch. Not even the French media tipped them to win.
We will forever remember the way Ireland won; France missed an eminently kickable penalty to put them four points ahead with three minutes on the clock, and Ireland went from there, suckering their hosts in the most extraordinary end-game.
What should also be remembered, though, is that Ireland had 68% possession and 68% territory. On a wet day and with a greasy ball, their attack was narrow, one-dimensional and wholly unthreatening. It was an eye-sore of a Test match, but it was dominated by Ireland.
France had to make 238 tackles; a Six Nations record. Eleven Frenchmen were in double-figures on defence. Jefferson Poirot, the loose-head, and Yacouba Camara, the open-side, weighed in with an impressive 17 tackles apiece. Wenceslas Lauret, the blind-side, made 19.
In normal circumstances, Sebastien Vahaamahina, the lock, and Kevin Gourdon, the number eight, would have been heralded for making 20 tackles each but all of that paled into relative insignificance when set alongside the tally of their hooker and leader, Guilhem Guirado, who equalled the all-time championship record with a barely believable 31 tackles in his 73 minutes on the pitch.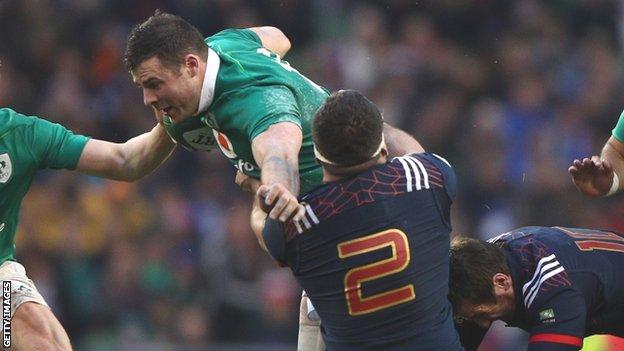 In the French media during the week, Guirado was described as "the man who tackled faster than this shadow." Mostly, the response to a hugely painful defeat was unsparing of the players. "France?" wrote Midi Olympique. "Perhaps the most boring team of the tournament." Elsewhere: "The Blues - are they doomed to defend?" And from the back-row, Lauret: "If we lose in Scotland, the tournament is over. We come with conviction."
The sliver of a silver lining from their opening-day loss centred around the ruggedness of their defence and the fact that it lasted beyond 80 minutes. Ireland didn't manufacture one clean line break in the entire match. That may say more about Ireland's attack than it does about France's defence.
Most of the tackles France were required to make were close to the ruck. Bread and butter stuff. They weren't stretched across the field, they weren't made to scramble. Ireland asked few questions of them and so we found out few answers. Their fitness to last the pace in a frenetic Test? Still open to doubt. The rain in Paris, and Ireland's refusal to take risks with all the ball they had, made it a slow and ponderous game. Lots of time breaks, very little tempo.
What we know for sure is that France are physically monstrous and that if you run straight at them then they'll dump you on your backside every single time. Scotland won't want to run straight, though. They don't want the game to be slow. They don't want conditions to be wet. All they want is to find a way of looking after the ball in a way they were simply incapable of in that humbling in Cardiff.
Scotland got turned over more times than anybody else in week one. Their line-out also malfunctioned badly. In the three games last weekend, all but two of the total tries scored originated with a line-out or a scrum. This is where France will surely see their opportunity.
Lionel Beauxis, the veteran 10 making his return to the team after a six-year gap, is predominantly a kicking 10. He was described in the French media as having a "magic right foot and a kicking game precious to the Blues." It's easy to see what France may do. Get Beauxis to kick for territory and then launch those massive forward drives right down Scotland's throat. Force kickable penalties or get tries through unstoppable rumbles. It would be a major surprise if France didn't try to expose what they see as Scotland's physical deficit.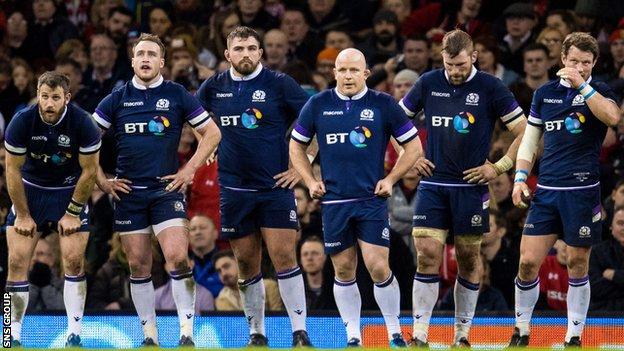 Scotland have made it plain that they're not moving away from their principles, that they're intending to run the ball as often as they can. If they can look after if then they're confident that they can pull France's defence loose and score. Their ineptitude at the Principality shocked them all to the core. Look after the ball has been their unceasing mantra all week long.
Given the power of the French, you'd still have concerns about the Scotland midfield - Alex Dunbar is such a miss in there - and the scrum and line-out are also under the microscope. One of the many, many things that Scotland lacked in Wales was the kind of influential, ball-carrying number eight that all other major teams have. Gourdon carried 10 times for France off precious little possession. Ross Moriarty carried 11 times for Wales, Sergio Parisse carried 12 times for Italy, Sam Simmonds carried 13 times for England (for 75m) and CJ Stander carried 24 times for Ireland (for 40m).
Cornell du Preez can carry, as he did against New Zealand in the autumn, but he's too inconsistent, too prone to flitting around the edges of pressure games when the big boys really go to work. He carried just twice for six metres for Scotland last weekend. Not good enough. Nowhere near.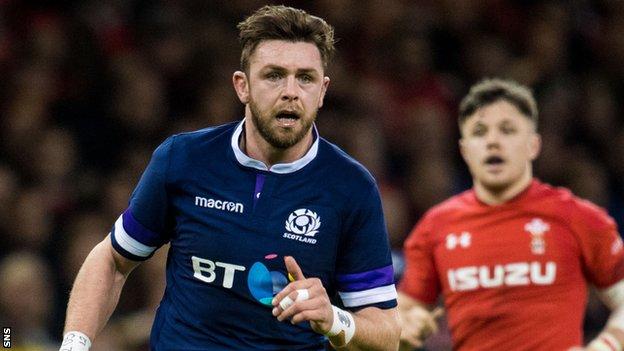 It was the least surprising thing of the week to see him dropped from the 23. Ryan Wilson comes back in and though he's not a consistent ball-carrier in the mould of some of his counterparts, he's capable of doing the job. In the win over Wales last season at Murrayfield, he carried 17 times. Wilson is a hugely important figure in this match.
So, too, is David Denton, the man who will appear at some stage during proceedings. Denton hasn't been capped since June 2016 in Japan. Scotland saw the best of him the year before. In that World Cup quarter-final against Australia at Twickenham, Denton carried and carried and carried. His return to the fold could give Scotland another dimension off the bench.
As Wenceslas Lauret says, in terms of a title challenge, the tournament is over for whoever loses. Both sides have had rough weeks. Both have promised their respective nations that they're going to make amends. One of these sides is going to be cast back into the horrors on Sunday night.
For Scotland, it's all about accuracy and tempo and living up to the pressure of a must-win game in front of their own people. If they get those things right they should win. After last weekend, they have an awful lot to prove, a huge amount of faith to restore.