Jersey Reds buy back St Peter ground after new £1.5m loan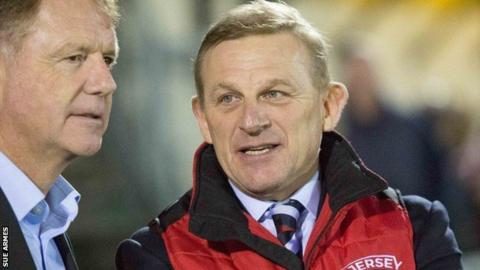 Jersey Reds have bought back the assets they were forced to sell last season after securing a new £1.5m loan.
The club's St Peter ground, clubhouse and pitches were sold to "third-party owners" in November 2016, with the club agreeing a deal to lease them back.
However, the Championship club have agreed a 10-year loan with a group of investors to pay off the previous deal.
"We are no longer tenants, which means we no longer have to pay rent," said Reds chairman Mark Morgan.
"Being forced to sell our assets was a painful but necessary process, but that chapter is now behind us and we can look to the future as we continue recent work to make the club's finances sustainable."
Jersey made the sales to make sure they could see out the 2016-17 season, and still hope to raise "significant funds" by selling a plot of land that was not part of the deal in 2016.
They made cuts to their playing budget last summer in an attempt to balance the books.
"We have been approached by a group of sympathetic individuals willing to provide this long-term loan at very favourable terms," Morgan added.
"The club remains in debt, and our work to stabilise our finances and raise funds to clear what we owe will continue, but we now have a longer period in which to do this and - most importantly - ownership of our assets."