'He used to bully the hell out of me' - Niall Malone on Richard Cockerill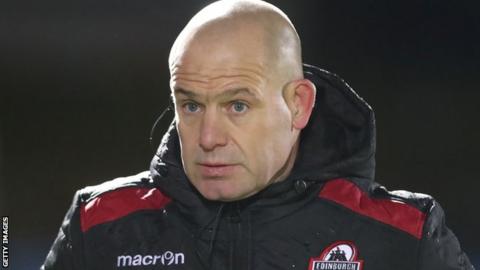 Pro14
Venue: Kingspan Stadium, Belfast Date: Friday, 16 February Kick-off: 19:35 GMT
Coverage: Live on BBC Two NI and the BBC Sport NI website
Niall Malone has praised Richard Cockerill's impact on Edinburgh this season but says his former Leicester Tigers team-mate used to "scare" him.
The Ulster skills coach played with Cockerill two decades ago and they now face each other in the Pro14 on Friday.
"I went to his wedding so we must have had quite a good relationship by the end of it, but he used to bully me to pieces," quipped Malone.
"He really scared me, frightened me actually."
Rejuvenated Edinburgh are three points behind Ulster in Conference B and they play each other twice in the next two months.
Cockerill, who coached Leicester to back-to-back Premiership titles in 2009 and 2010, was sacked in January 2017 and, after a spell at Toulon, took over at Edinburgh before the start for this season.
"I was amazed when he went to Edinburgh," Malone says.
"I couldn't really see the link between him and Edinburgh when it was announced, but he's done really well. You can see his characteristics coming through.
"They had good players, they didn't seem to sort of gel or fight it out the way they do this year.
"Up front they look like an old-fashioned Munster team, they look tough and rugged and they didn't use to look like that.
"That's what characterises his personality and I think he's had an instant impact, making them more aggressive and more competitive.
"They're the best Edinburgh team we've played in a few years."
Gibbes heading Down Under?
Jono Gibbes is only two weeks into his new role in charge of Ulster but has been linked with the Wallabies and a role in Michael Cheika's coaching staff.
Malone hopes speculation about the New Zealander moving to Australia is "a fake rumour" and accepts Ulster needs stability in the wake of the recent departure of former Director of Rugby Les Kiss.
"I'd be absolutely gutted if there was any truth in it, I really really mean that," Malone added.
"I think I'm on my third or fourth head coach in six years so I'm aware my head's not on the parapet, but there's potential in the coaching group with Aaron [Dundon], Dwayne [Peel] and Jono leading it.
"They didn't know each other that well before this season but they're very tight as a trio in supporting each other.
"I think it's absolutely crucial they stay and continue the work they've started because they've only been here six months for 20 games, so they're only getting going.
"There's definitely a lot of respect coming from the players towards that group of coaches and I really hope that continues."
Payne stepping up
Jared Payne's summer tour of New Zealand with the British and Irish Lions was ended prematurely because of recurring headaches and he has not played for Ulster this season.
However, he has taken a lead in team meetings and assumed an unofficial coaching role - which Malone hopes will become a permanent position.
"The key thing is I think every single person in the squad thinks he's the best player or one of the best players we have, so when he speaks everybody listens.
"It's been really interesting watching him because he's always contributed so much as a player, as some of the senior players do, but now he's almost got this official title of being coach.
"I can't wait to see how the team responds to his coaching because on the training pitch it's been really interesting - not a huge change to the influence he's always been.
"I'd love him to be full-time and permanent, but I'd also love to see him playing again and he's still talking about playing again, so this isn't a sign he's retired from playing.
"He's having his lunch with the coaches now so he's getting a bit of ribbing! If he can sort our defence out and improve it then I think we'll all be very happy with that."