One positive drugs test in 2016-17 season, reveals Rugby Football Union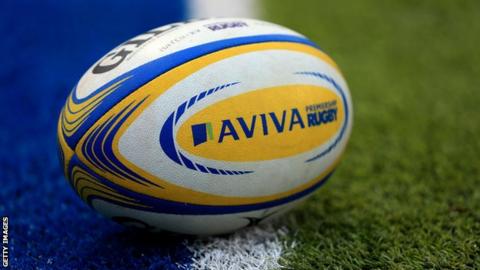 The Rugby Football Union insists it is running a "comprehensive" anti-doping programme, despite revealing a Premiership player could go a whole season without being tested.
The RFU's annual report for 2016-2017 shows there were no violations for performance-enhancing drugs in the professional game.
However, one player tested positive for out-of-competition cocaine use.
The RFU says there is no "systematic problem" but it is not "complacent".
"We believe the testing figures are some of the highest in rugby union globally," said Stephen Watkins, the RFU's anti-doping programme manager.
"The more testing you do doesn't necessarily result in a higher number of violations. You need a programme that is sophisticated, intelligent, and [which has] a very good deterrent effect on anti-doping.
"There is no systematic [doping] problem, but we absolutely aren't complacent."
Across the professional game in 2016-2017, the RFU says 623 anti-doping tests were carried out, but while an England international will be tested "between eight and 12" times a season, a Premiership professional will only be tested around three times on average, and sometimes not at all.
"If a player did go a season without being tested, we flag it with UK Anti-Doping [Ukad] and we make sure we pick those players up," added Watkins.
"This is about having good data analysis on our players so the testing is comprehensive season on season.
"The [testing figures] represent a very good and comprehensive programme to detect and deter doping within rugby union, certainly in the professional game."
Watkins says that since the 2004-2005 season, around 7,000 tests for performance and image enhancing drugs have been carried out at the elite end of the sport.
"We have used some of the most sophisticated techniques anti-doping has to offer, and we haven't uncovered a single player," he said.
Ukad has praised the RFU's approach when it comes to anti-doping and illicit drugs, with the union's annual report the seventh of its kind.
"We are pleased the RFU is taking such a proactive step to be transparent about the process they run, and we would encourage other sports to follow suit and think about publishing an annual report," said Emily Robinson from Ukad.
"From our point of view we could always undertake more testing but it's important to say a successful anti-doping programme is not solely about testing.
"You need to make sure you also have really strong prevention strategies in place, and the RFU have illustrated the high amount of education that is going on."
Drugs in schools a 'serious issue'
Two players at amateur level were found to have used performance-enhancing drugs during 2016-17, while a third case is still being investigated.
Research in conjunction with Leeds Beckett University has found that the use of banned substances in schools is a "serious issue that needs attention".
Watkins added: "We carried out a piece of research with Leeds Beckett, which has given us a really valuable insight into the lives of our young players, and is enabling us to put a targeted strategy in place to address some of the issues raised.
"We are one of the only unions in the world who over the last five years have been consistently putting a high number of tests in on our 16-18 year old youngsters playing the game.
"I read with interest recently that the New Zealand Rugby Union has been testing in their school-age population; we have been doing this for a number of years, with a very, very small number of players having failed in that programme.
"I actually feel very confident that while there is work to do - we need to make sure our young players are getting comprehensive education - I don't fear there is a great problem in our school-age playing population."
'We will not tolerate illicit drug use'
The report also reveals one professional player tested positive for cocaine last season, a decrease from the two who tested positive the year before.
But despite concerns over the use of recreational drugs by players - with Scotland's John Hardie recently suspended for three months for alleged cocaine use - the RFU is confident their illicit drugs programme is working.
"When compared to the figures reported for the use of illicit drugs in this age-group across society, this demonstrates that professional rugby is a game that does not tolerate illicit drug use," said the RFU's chief medical officer Simon Kemp.
"We take our responsibility towards anti-doping very seriously and I'm delighted to see that the report yet again has returned a clean bill of health," added Phil Winstanley, from Premiership Rugby.
There were 302 hair and urine samples taken, with any player testing positive for recreational drugs required to undergo a specialist assessment.
The RFU report says no player who has failed a test and completed the subsequent welfare programme has re-offended.