Six Nations 2018: Jeremy Guscott analyses Scotland hero Huw Jones

By Jeremy Guscott
Rugby union analyst, BBC Sport
Last updated on .From the section Rugby Union750
Scotland centre Huw Jones' second try in their win over England was sublime in execution but the Six Nations champions could have seen it coming.
A constant threat with ball in hand, combining searing pace with an eye for a gap, Jones had already shown signs of the damage he could do before his two tries in Scotland's 25-13 win on Saturday.
Two weeks ago, in his team's 32-26 win over France, the 24-year-old took a flat pass straight off scrum-half Greig Laidlaw, cutting an inside line past a startled second row Sebastien Vahaamahina to go in under the posts.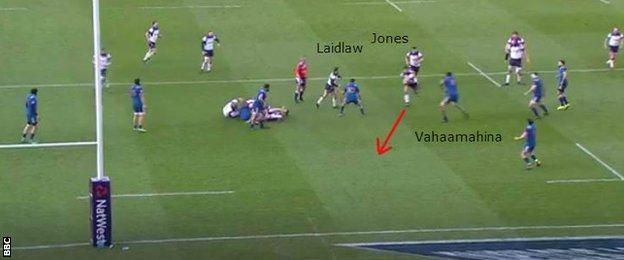 You can see Jones' canny run in the image above or watch the try again a minute and 55 seconds into these highlights.
Against England, Laidlaw and Jones combined almost identically to set up the superb third try that cut England 22-6 adrift just before half-time.
As you can see if you watch from two minutes into the video at the top of this page, Laidlaw's pass - flat, fast, and accurate - was again perfect.
But the vast majority of the credit for the line break goes to Jones.
Even while Laidlaw was fetching the ball from the depths of the ruck, Jones was plotting his path.
With Finn Russell lying deep and second rows Jonny Gray and Grant Gilchrist apparently poised to take the ball into contact around the fringes, Jones attacked the gap between England pair Owen Farrell and Nathan Hughes, targeting the outside shoulder of the England number eight.
The gap was not big. But Jones' pace, injected into a relatively static situation, makes it big enough.
Farrell, wary of Scotland's threat out wide, rightly kept his position.
But Hughes, perhaps still short of match fitness, perhaps with half an eye on Gray and Gilchrist, could not react quickly enough to shut the door and Jones burst through.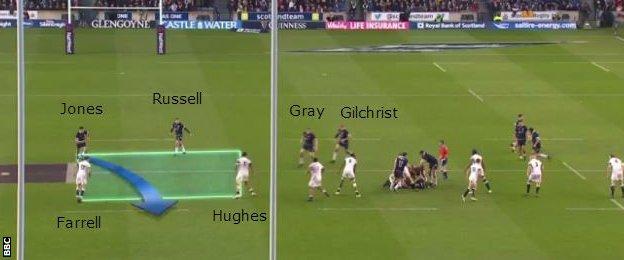 From that point, it may have seemed as if all Jones has to do is run hard, straight and fast.
It is rather more complicated than that, though.
Firstly, not many people have the sheer pace to convert that initial break on halfway into a try.
Jones - flush with the confidence of eight tries from his previous 12 international starts - immediately recognised he had left his support behind. But he also knew a try was on if he pinned his ears back.
With white-shirted pursuers attempting to close the loophole, Jones drove for the gap between Anthony Watson and Mike Brown... and glory.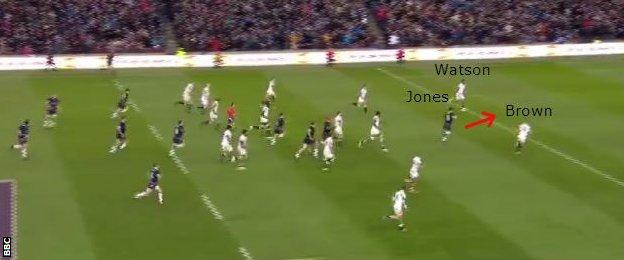 Jones only made the line through a combination of bloody-minded determination and cool thinking, however.
Watson and Brown converged on the Scotland centre more than 10 metres from the tryline.
But Jones, carrying the ball under his right arm, kept Watson at bay with a powerful hand-off that put the Bath wing on his backside.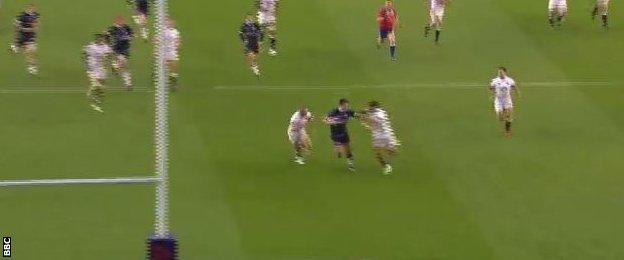 Brown, who had been struggling for pace against Jones, then made a last-ditch attempt to dislodge the ball and avert the score.
But Jones had the nous to brace himself against the full-back's tackle, stabilising the ball with his opposite arm as he dived over to touch down.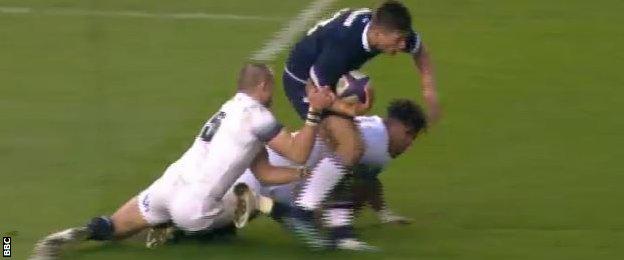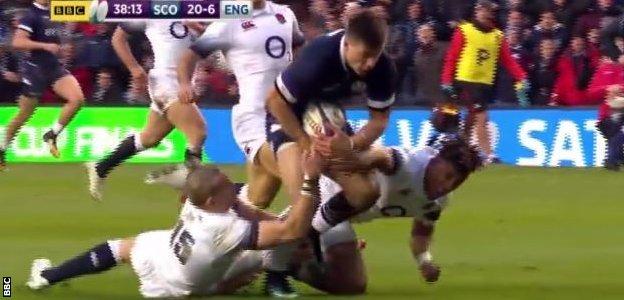 All in all, a wonderful score.
The gap-year superstar
Jones has emerged from leftfield, so far away from the 'talent pathways' laid out by major unions that he was barely on the map.
He was born in Edinburgh, but went to school in England and ended up playing for Western Province in South Africa after an extended gap year turned into a full-time rugby career.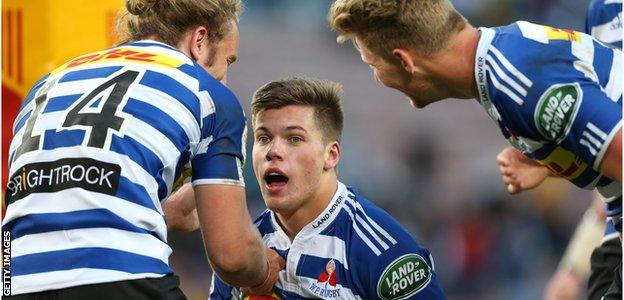 He reportedly only came to Scotland's attention when a member of Glasgow Warriors' backroom team spotted a Saltire next to his name on a television teamsheet.
Experiencing those different countries, cultures, attitudes, playing style and training will have helped make him a more rounded and experienced person and player.
He is only 24 but, with fellow Glasgow players to make him feel comfortable in the Scotland backline, he has immediately made himself at home in international rugby.
He is not a heavyweight centre in modern terms, but he has shown that with speed of thought and foot you don't need to be built like a weightlifter to prosper at this level.
Unbeaten Ireland will pose a different challenge in a fortnight's time in Dublin thanks to Bundee Aki and Chris Farrell's more direct style.
But I'm sure Saturday's effort will not be the last Test try from Jones worthy of an in-depth look.
Jeremy Guscott was speaking to BBC Sport's Mike Henson.