Scotland must find home form away from Murrayfield - Huw Jones

By Andy Burke
BBC Scotland
Last updated on .From the section Scottish Rugby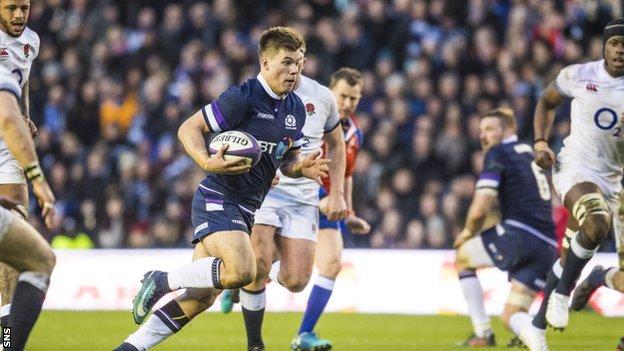 Scotland centre Huw Jones says the side must replicate their home form away from Murrayfield if they are to be viewed as one of the world's top teams.
After becoming only the second team to beat England in 26 Tests under Eddie Jones, Scotland now travel to face an Ireland side that has won all three of their Six Nations matches in 2018.
"This game is obviously a massive confidence booster," said Jones, 24.
"We're under no illusions, we've got a really tough away game.
"We've turned Murrayfield into a bit of a fortress now. I think in our last nine games we've lost one and that was a real close one [against New Zealand in November].
"If we're going to become a really great team we're going to have to start winning away, which we haven't really done for a while.
"That next game is a massive test and that's what we're thinking about now."
The prolific centre continued his incredible scoring streak in the Calcutta Cup victory, his two tries taking his tally to 10 in 14 Tests.
It was Jones' second crack at England, having also crossed twice in rather different circumstances towards the end of the Scots' 61-21 defeat at Twickenham last season.
As much as he enjoyed the moment in avenging that defeat, seeing what it meant to the likes of captain John Barclay and Greig Laidlaw brought added satisfaction.
Those two players, during a combined total of 128 Scotland games, had never tasted victory over England before Saturday.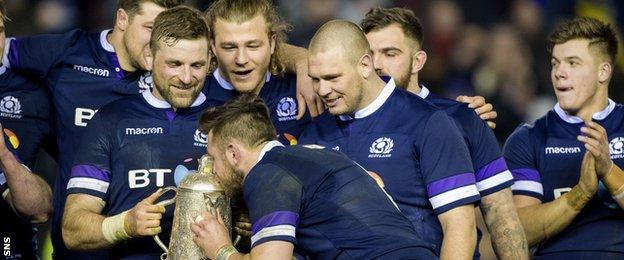 "You could see before the game how much it meant to the guys that have been around for a while, Barcs and Greig," the Glasgow Warrior explained.
"You could see the motivation they were trying to instil in everyone else and it paid off.
"To see their faces after the game and how much it meant to them, it means the world to all of us. Those guys that have been around for a while and had some not-so-good times in a Scotland shirt, it's massive for them."
Scotland head coach Gregor Townsend echoed Jones' assertion that becoming a genuine force on the road as well as at home is now the big challenge facing his side.
Scotland opened their campaign with a disappointing 34-7 defeat by Wales in Cardiff.
"There is probably a twin challenge in that we have to look at Ireland closely, what we need to do to beat them and what we need to do to get our game in place," Townsend said.
"But it is also about how we do much better away from home. It has been an issue for Scottish teams since the Six Nations began.
"We have to make sure we play close to our potential. If that means we win the game then brilliant.
"But if it means that we just put in a very improved performance compared to the likes of Cardiff and Twickenham then that is a big step forward.
"It is tough to play away from home, as England found out here. All teams have much better home records in this tournament than, say, in November games or in World Cups.
"We have to make sure we have focused right and that we are ready for what we will face in Dublin and that we are able to play accurate rugby. We obviously didn't do that in Cardiff."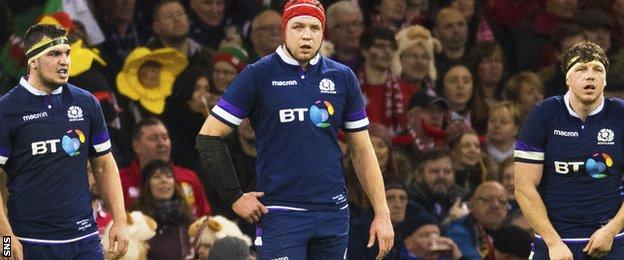 For his part, Jones believes this Scotland team are capable of going to the backyards of the powerhouses of international rugby and departing with victories.
"I think we've got it in us. It's about the preparation, the mindset going in," Jones said.
"We didn't have that for our first game [against Wales], but I think we've learned a bit now and maybe going into this Ireland game we'll be better prepared.
"A lot of people will say England maybe didn't have their best game and, if Ireland have their best game, it will be a much tougher game.
"They'll have the home crowd, they'll have the sort of lift that we got from our supporters.
"Going over there, whatever we did against England, we'll have to up that performance."