Leah Lyons: Ireland prop upset by verbal abuse from spectator in Wales game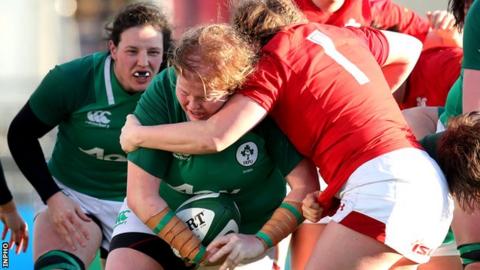 Ireland women's front row Leah Lyons says she was verbally abused by an Irish spectator during Sunday's Six Nations win over Wales at Donnybrook.
Lyons scored Ireland's first try in the 35-12 win but later tweeted about the taunts from the spectator.
"Poor choice of wording from a man in the crowd [Irish] yesterday... 'heifer', relating to myself," said Lyons, 24.
The Munster player said the spectator was "three rows away from my family".
Cork native Lyons said another spectator was so upset by the incident that they confronted the offender.
"Rugby is a game for all. No one is perfect. I realise I'm an example of that but have a bit of respect," added Lyons, who has represented Ireland at hooker and prop.
"Good to hear that someone in the crowd gave you a flake of a flag and told you be quiet. Ain't got nothing good to say, say nothing at all."