John Barclay column: 'Beating England was a career highlight, but it's over now'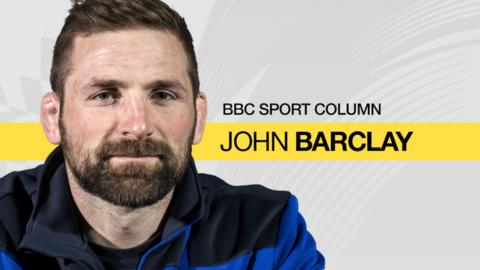 Saturday was one of the highlights of our careers, maybe the greatest highlight.
That's a tribute to England in many ways. They were, and are, a great team. They've beaten nearly everybody in the last two years. They've won back-to-back Six Nations championships, one of them with a Grand Slam, so you can understand why this victory and the manner in which it was secured, our first Calcutta Cup win in 10 years, means so much to us.
There's another massive battle to come in Dublin, a chance to correct our away form that must improve dramatically if we're to take our progression to the next level. That's the big challenge for this team. We can do it at home, but we have to start delivering away from home in the championship, the way we did in the summer against Australia in Sydney.
We'll come to all of that next week. For now, a review. To be honest, it's a bit of a blur. I haven't watched it back yet. With games like that I usually don't watch them again, not from start to finish anyway. I've never watched my first cap for instance. There's a reason for it. I'm not sure if it will make sense to you, but it makes sense to me.
Games like that you tend to remember through rose-tinted spectacles, and for a few days I'd like to keep it that way. Most professionals are brutally self-critical. So if I sat down to watch it now I'd see things I didn't like. The negatives would jump out at me. I'd sit down thinking that I had a really good game and I'd get up 80 minutes later thinking that it wasn't nearly as good as I thought. That's what professional players are like. The good stuff? Yeah, yeah, fine. The mistakes? Oh God, terrible.
That analysis is coming. It'll be broken down once we get back into camp for the Ireland game and all the good and all the bad will be looked at in incredible detail. It's what we all do. Detail, detail, detail. Analysis and detail are definitely bedfellows with self improvement.
'England were gracious in defeat'
I wrote last week that Saturday wasn't about revenge for the humiliation we suffered at Twickenham 12 months ago. It was more about using that memory and trying with every ounce of energy we had to make sure it didn't happen again. I used it, in a quiet way. I thought about the feeling on the pitch at Twickenham, the feeling on the final whistle, the feeling in the press conference, the feeling at the post-match function.
You have to be gracious in defeat, as the England team were on Saturday. The England boys were generous. They knew how we felt, we knew how they felt. It's rugby at the top end. It's a tough and an emotional business.
Certain things stand out from the day. Finn [Russell], for example. I said on Friday that Finn is not the type of guy to go deep in the pocket just because he's had a couple of not great games, and because people are criticising him. He's still going to throw passes when he thinks there's something on. That's why he's such a good player; that ability to play on the edge. He was definitely aware of the pressure on him, but he delivered spectacularly. That says a lot about his talent and maybe says even more about his character.
In real time, I didn't realise how good his pass to Huw Jones was. It was only when I saw it later that I appreciated the skill. I was trying to explain to my wife how hard that pass is; it's like trying to thread the eye of a needle in front of 70,000 people.
Add to the mixer the fact that we had defended for a number of phases prior to it. I managed to turn the ball over and I was blowing. I got up off the floor hoping for a breather and maybe a nice look at the slow-motion replay of my turnover on the big screen, but the way we play I knew there'd be a tap-and-go.
Often you'll hear someone shout "No!" (normally one of the larger members of the team hoping to re-inflate lungs that resemble deflated crisp packets for most of a Test match). Funnily enough, the instigator of the shout for mercy remains anonymous.
'It's brutal... you're waiting to be steamrollered'
The breakdown was an important element of the game for us. England are good at the breakdown. You don't win the number of games they have won without being brutally efficient at the breakdown. There are 20-odd set pieces in a game but you might have somewhere between 100 and 200 rucks, so it's a critical area.
Sometimes chances come up and sometimes they don't. On Saturday, we got chances and we have good guys over the ball to make the most of those chances. We got ourselves in good positions, made smart decisions and executed a skill that often results in you getting twisted up and spat out the back of a ruck.
Listen, it's pretty brutal in there. As soon as you get hands on opposition ball at the breakdown, then you're waiting to be steamrollered. You know that one, two, three guys who usually have a good run-up on you are going to try to obliterate you. Because of this, the response from your team-mates is normally fairly emphatic when you win the ball.
[Scotland head coach] Gregor [Townsend] is really innovative in that each week we have a new playbook. Perhaps in years gone by we might have brought in one new move a week, but pretty much every week now we could have up to 10 new moves. Sometimes you don't get through them all. Rarely, in fact. But Gregor and the coaching team would have spent days, weeks, months planning these attacks, analysing what might work.
'Ireland are a seriously formidable team'
The new moves can be two or three-phase moves, each of them have a line-out attached as well. There's all sorts of cancels and checkout options if things change. Training is therefore designed to put you under the same sort of pressure, physically and mentally, as a Test match. Putting the players under stress is part and parcel of a training week now, and it ensures that come Saturday you know your role inside out and you are allowing yourself the freedom to play off instinct, without thinking.
We have apps on our phones and ipads with all of this stuff on it. All teams would have that these days. We have clips of the moves from training with the coaches speaking over them. Gone are the days of sitting in the back of meetings praying you won't get asked a question, and to a man, the guys have bought into this culture - learn, study and analyse early in the week and perform on a Saturday.
The expectations are different now. You just have to learn it, no option. You don't learn it, somebody else will play. If you don't learn it or can't learn it, they can't pick you. We train for a couple of hours a day and there's an expectation on you as a professional to turn up for work knowing your stuff.
We have Ireland next and what a huge game that will be. They're in fantastic form and their supporters will be whispering 'Grand Slam' now. They're a seriously formidable team. Another day, another challenge.
Saturday was great, but it's over. We've enjoyed it, but we're going back to work now. Days like Saturday will mean a great deal more if we can back it up.
John Barclay was speaking to BBC Scotland chief sports writer Tom English.