Ryan Wilson: Scotland forward cleared over Nathan Hughes incident
Last updated on .From the section Scottish Rugby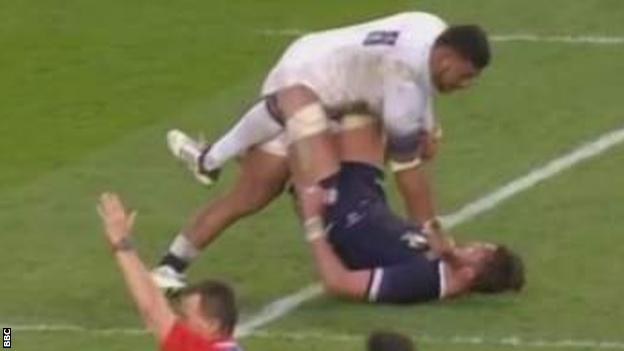 Scotland number eight Ryan Wilson is free to face Ireland in the Six Nations on 10 March after being cleared of intentional foul play against England.
Wilson, 28, was cited for allegedly making contact with the eye area of England counterpart Nathan Hughes.
The Fiji-born forward had Wilson pinned down by his neck at the time, with television pictures showing Wilson apparently lashing out to free himself.
A disciplinary committee did not uphold the citing, which Wilson denied.
No sanction was imposed and Wilson is free to resume playing immediately.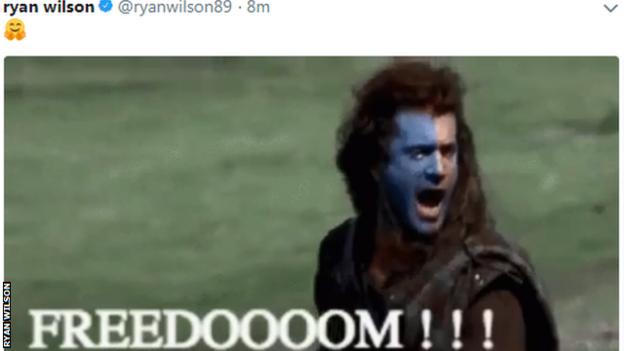 A three-person disciplinary committee of Welshman Roger Morris, former USA women's player Phaidra Knight and ex-Wales lock Olly Kohn, viewed video footage of the incident and heard representations by and on behalf of the player and Six Nations Rugby.
It found that Wilson "had committed an act of foul play in that he had made contact (with two of his fingers) with the eye area of his opponent".
However, the committee "accepted medical evidence submitted on the player's behalf that, due to a pre-existing injury, two of his fingers were involuntarily in a bent or hooked position".
They "also considered that the contact with the eye area had been reckless (rather than intentional), light and fleeting, and had come about as a result of the player's attempts to grab his opponent's shirt during an off-the-ball scuffle".
Prior to the match, Wilson and England centre Owen Farrell appeared to clash at the entrance to the tunnel as the teams returned to the dressing rooms following the pre-match warm-up.
But Six Nations organisers decided there was "no evidence of violent conduct" and settled for reminding the two unions "of their responsibilities".