Ospreys' Ben John to take 12 month break after injuries
Last updated on .From the section Welsh Rugby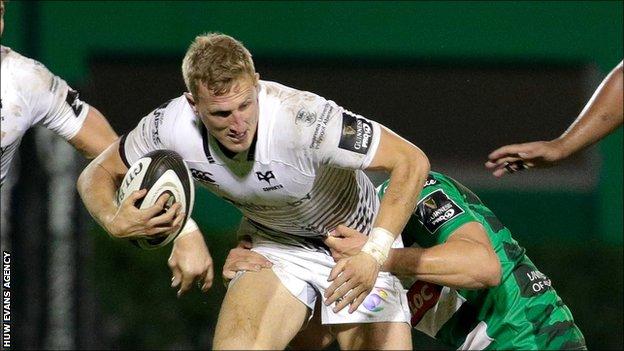 Ospreys centre Ben John is to take a 12 month break from rugby to recover from a series of head injuries.
That was the third incident to have affected him in 2017, limiting him to just 10 appearances last year.
John said he wanted to be "fully rested and ready to go again next year".
Specialist advice was for him to miss the remainder of the season, after which he is expected to make a full recovery.
But John said it is in his best interests to take an extended break from playing.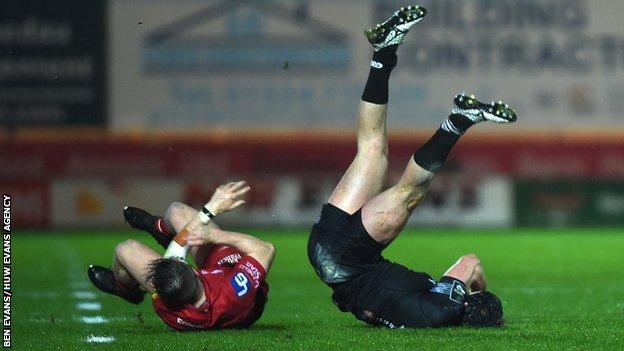 "I want to look at my options in terms of life outside of rugby and prepare for the future," he said.
"I've spent a lot of time on the sidelines over the last year, dealing with the effects of head injuries, and it has made me think longer-term than just the next match or the next month.
"Taking time out gives me the opportunity to look at new experiences and options before resuming my career next year refreshed and fully fit."
Dan Griffiths, rugby general manager at Ospreys, said: "Ben has been a great club man over the last 10 years, someone who has always given everything to the cause on and off the field.
"The last year or so has been very difficult for him but he has dealt with it very maturely and, by taking an extended break, is giving himself time to not only look at future options but to ensure he is fully refreshed and in the best possible health for 2019 and beyond."