Ulster's Pro14 game against Glasgow postponed following weather warnings
Last updated on .From the section Rugby Union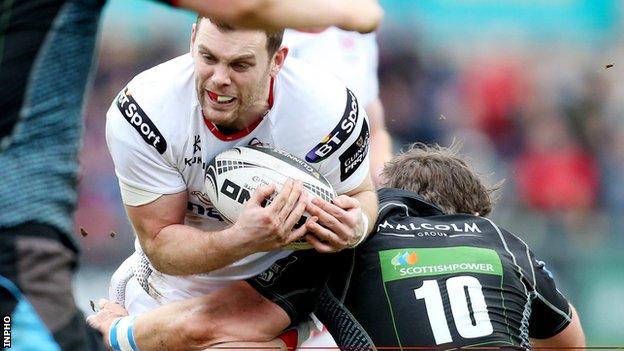 Ulster's Pro14 game against Glasgow on Friday evening has been postponed because of the weather warnings in place across Ireland and the UK.
As of Wednesday afternoon there had been no snow in Belfast but bad weather conditions in Scotland led to Pro14 organisers making an early call.
"The health and safety of supporters, players and staff is always paramount," said a Pro14 statement.
The game has been rescheduled for the weekend of 20-22 April.
There was major disruption at Glasgow Airport on Wednesday with all flights suspended for a time.
The Pro14 statement added that with "further inclement conditions forecast for Friday night in Belfast, those travelling to the stadium would likely be exposed to hazardous conditions which raises welfare concerns".
The date and kick-off time for the rescheduled game will be confirmed in the coming days.
"We would ask supporters for their understanding on this postponement and hope that any inconvenience caused is minor compared to the impact of making this decision closer to kick-off," continued the Pro14 statement.
Ulster have said that tickets will be valid for the rearranged game while refunds will be available from the point of purchase until Saturday at 17:00 GMT.