Eli Walker: Wales & Ospreys wing retires from rugby at 25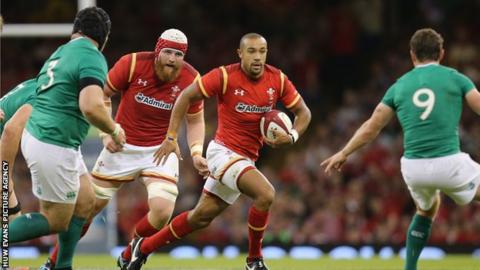 Wales and Osprey wing Eli Walker has retired at the age of 25 after failing to overcome a back injury.
Walker, whose solitary Wales appearance was in 2015, had surgery last year, but has been advised to retire by doctors.
"It is extremely difficult thing to do, acknowledging and making the decision that you have to retire from the game but it is absolutely the right thing for me to do," Walker said.
"I've worked hard to try to get back to where I was pre-surgery."
Walker added: "Unfortunately, I recognise that I am not going to be able to do so."
"I'm immensely proud of everything I've achieved on the rugby pitch, be that playing for Swansea, representing my home region, the Ospreys, or gaining my full Wales cap.
Walker, a Pro12 winner with Ospreys in 2012, represented his home region 81 times.
His last appearance for the Ospreys was in a 31-7 win against the Blues at Cardiff Arms Park in 2016.
"Everyone is saddened by this news," said Ospreys managing director Andrew Millward.
"Eli is someone who came through the development system and was identified at a young age as having the potential to become a senior player for the region and for Wales with his physical attributes and rugby ability marking him out as someone with a bright future.
"He established a reputation as a quality finisher of the highest level and enjoyed many standout moments in an Ospreys shirt.
"It is a real shame for Eli, and for the Ospreys, that injury has cut short his career before even reaching what should be his prime. However, he should be proud of what he has done in the black shirt."