Guernsey Raiders: Jordan Reynolds impressed with side after 12th successive victory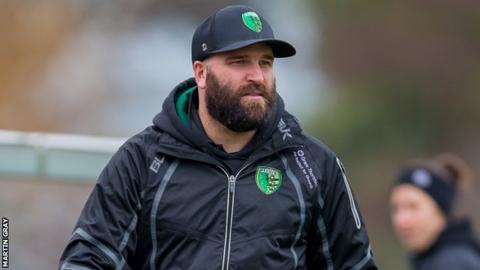 Guernsey Raiders boss Jordan Reynolds says his side are in a formidable position after their latest win.
Their 38-7 win over Guildford put them 11 points clear at the top of London and South East Premier and was their 12th successive victory.
"We didn't play our best, yet we put 38 points on Guildford," Reynolds said.
"If you're not playing at your best and still picking up bonus points that shows we're in a really strong position at the moment, which is fantastic."
Guernsey face ninth-placed Shelford next week before a season-defining clash with second-placed Barnes on 24 March.
"The other teams have a game in hand now, but that puts pressure on them to chase what we're doing at the moment, which is very difficult," Reynolds told BBC Radio Guernsey.
"It's in our hands, even if they get the game back we're still six points ahead, we've just got to keep on winning our games and putting in the performances like we are at the moment."