John Barclay column: Scots will need to improve further to beat Ireland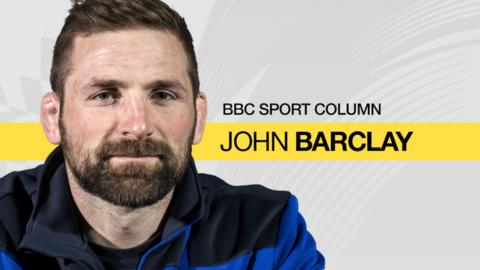 Six Nations Championship: Ireland v Scotland
Venue: Aviva Stadium, Dublin Date: Saturday, 10 March Kick-off: 14:15 GMT
Coverage: Live on BBC Radio 5 live sports extra, BBC Radio Ulster, BBC Radio Scotland & BBC Sport website and BBC Sport app, plus live text commentary.
As far as I can understand, the object of Ryan Wilson's game is to jump out of a hot-air balloon along with 99 other online players, run around an imaginary town, find the other folk and do what you need to do with whatever weapons you've found along the way.
If I sound like I know what I'm talking about, then I don't. My knowledge of this game - apparently everybody is playing it - purely comes from lying back on my bed trying to relax while Ryan, my pal and room-mate, puts it on his PlayStation.
You're supposed to sprint about and build stuff and lure people in before putting them away, but Wilson just seems to hide behind trees away from all the action.
He says I banned it this week. I didn't. He just wasn't allowed to play it in the room. He's taken his console and gone elsewhere. Currently, as I do this column, he's with Pete Horne, Sean Maitland and Tommy Seymour in a room down the corridor. Their on-screen characters are probably cowering in a bush and afraid to come out. Each to their own.
We all switch off differently: some play virtual hide and seek, some drink coffee, some read. You need some down-time. I was talking to our physio the other day and he said he was ordering in more ice bags for Dublin.
He said that, from his perspective, he gets through more ice to nurse more bumps and bruises in games against Ireland and South Africa than any other nation we play. I laughed, but I'm pretty sure it wasn't a joke.
We know what's coming at the Aviva. Loads of intensity, loads of attrition. Ireland are in great form and they're well drilled. I'm always saying in this column that whoever looks after the ball best usually wins these games and Ireland look after the ball extremely well.
They had 69% possession and 75% territory and conceded only four penalties against Wales. They had 63% possession and 65% territory and conceded just three penalties against Italy. They had 68% possession and 68% territory against France and gave away only six penalties.
Those are some impressive numbers. They play hard, direct and winning rugby. They run off Conor Murray a lot. About 70% of their ball carries are off nine. They try to grind you down with their power game. They kick to the corner and when they get in your 22, they're very hard to stop. It's a brutal style of rugby, and it's been brutally effective.
I'd imagine that the words Grand and Slam have been whispered, or even shouted, this week. Not much by the players, I'd guess, but by the media. It's only human nature. They're the only team left in the tournament who can achieve it and they're only two games away from it. Pressure comes with that, but these boys are hugely experienced.
'I've won in Dublin before'
I've won in Dublin once before, back in 2010 at Croke Park. Dan Parks had it on a string that day. Johnnie Beattie scored a great try. The stadium was unbelievable. It was only later that I started to appreciate its significance in Ireland's history, so to have played, and won, there is pretty special.
If we're going to win at the Aviva then we're going to have be better in Dublin than we were against England at BT Murrayfield, that much is a guarantee. Ireland have won their last eight Tests at home and their last 10 in all. As I said last week, the next step for this team is to win big games away from home under pressure. Playing Ireland in their backyard ticks both those boxes.
I was still feeling the physical effects of the England game five days later and it's going to be same again next week. I've said it before in this column, I take a perverse comfort from suffering pain for days after a big game, particularly a big game that we've won. The pain is a reminder of the effort you put in, the lengths you went to in order to get a victory. I take a sadistic pleasure from it.
We know the lessons of before, the kicks in the gut we received when going away to Twickenham last season and Cardiff this season. Control the ball; we didn't in Cardiff. We were so sloppy, we didn't defend properly. We've defended well since then. Our general defence and phase shape has been very good.
Another lesson - get out of the blocks early and go after them the same way we would do if we were at home with our own crowd roaring us on. A crowd adds pressure on a visiting team. Our fans lifted us against England. Every tackle, every turnover, every try, every big moment - bedlam.
We could see England trying to galvanise themselves out there, but it's difficult when the stadium is rocking and you're on the back foot. That's part of why away wins are fairly thin on the ground in the Six Nations. You're not playing against 15, you're playing against 50, 60, 70, 80,000 people.
'Plant seeds of doubt'
We want it to be chaotic and uncomfortable in Dublin. We did it last year when they came to Edinburgh. We're comfortable when there's chaos breaking out but the line between chaos and control is a fine one and striking the balance between these two bedfellows is crucial. Plant a few seeds of doubt early and go from there. We're only going to create so many chances, so we need to capitalise on them. Quality teams don't give you too many chances and they tend to take a high percentage of theirs.
In the days leading up to the England game, Finlay Calder came into the camp for a chat and what a pleasure it was to hear him speak. A Lions and Scottish great, it was fascinating to speak to him and hear the passion he still has in his voice when talking about Scottish rugby. We were talking and he said, 'It's different, isn't it? An England game? It's different." It is, it just is.
He told me that he had a good feeling about it and that he wouldn't say it if he didn't believe it. He was right. I'm not sure how the great man is feeling about Dublin, but we're going there with belief that our very best stuff will make it a hell of an occasion.