BBC Sport - 'History doesn't protect you from the future' - Schmidt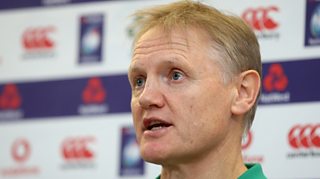 'History doesn't protect you from the future' - Schmidt
Ireland head coach Joe Schmidt believes that England's unbeaten home record will be tested by Ireland when they travel to Twickenham next weekend in a bid to complete a Grand Slam.
"History doesn't protect you from the future," said Schmidt, who pointed out that Scotland threatened Ireland's own unbeaten run in Dublin.
Ireland won the Six Nations thanks to a win over the Scots and England's defeat by France in Paris.