Six Nations: 'France deserve to party' after victory - Gatland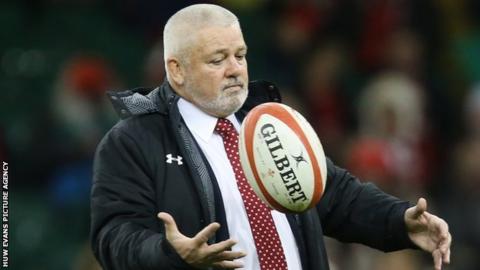 Wales coach Warren Gatland says France deserved to "party all night in Paris" after their Six Nations victory over England.
Wales play France on Saturday, with the aim of finishing second in the championship behind Ireland.
"I thought they were exceptionally good against England," said Gatland.
"It going to be a tough game for us... You have to take your hat off to Jacques Brunel in terms of the discipline he has brought."
Gatland said France, who will be without their injured captain Guilhem Guirado for the game at the Principality Stadium, have a defence which "looks strong at the moment".
"It was good in the first game against Ireland," said the New Zealander. "They were unlucky not to win that, and then they started well against Scotland."
Since their opening two defeats France have gone on to beat England and Italy and should results go their way, Brunel's side could still finish second.
'I don't want him to lose that emotion'
Gatland also said Liam Williams' high tackle yellow card would not cost him his place against France, however he did add that the full-back needed to "control his emotions" better.
"I understand what he was trying to do, he was trying to hit him as hard as he could," said Gatland.
"If he makes that tackle a bit lower there is no problem, but he catches him high and it possibly could have been a red card."
He added: "I don't want him to lose that emotion. That's what makes him as a good as he is.
"He is physical, he has got great work rate, he has great energy and you don't want to take those things away from him.
"When things aren't quite going his way he needs to keep control and keep calm. He will work hard on doing that."
Watkin was 'excellent'
Gatland said he was particularly pleased with the performance of Owen Watkin in the centre.
"He [Watkin] was excellent," said Gatland. "He has done really well for the break he has made and he has defended well.
"That is an aspect we have seen in his development. He is a player we have had a lot of hope for, but he has been unlucky with injuries and things."
Gatland also said he was pleased with his side's performance despite making 10 changes to that which lost to Ireland.
"We have come unstuck in the past making that many changes so to get that scoreline was incredibly pleasing, especially as there were aspects to improve on.
"With a couple of guys rested we can bring guys in after a six day turnaround who will be a bit fresher."