Don Armand: Exeter player happy to play anywhere in back row for England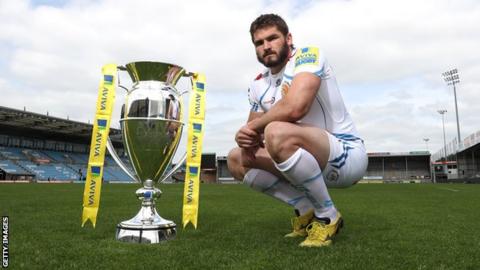 Don Armand says he would be happy to play anywhere in the back row if he is picked by England for Saturday's Six Nations match against Ireland.
Armand was drafted in on Sunday, when Courtney Lawes and Nathan Hughes were ruled out of the match at Twickenham.
The 29-year-old Exeter flanker learned of his call-up while taking his children swimming.
"I think I can do a job in all three positions so it is wherever I am needed," he told BBC Sport.
Armand had to warn his family to keep his call-up secret, though to many involved in the game it was an obvious answer to England's problems at the breakdown.
He said: "It was exciting. I got back home and my mum and my wife were there, full of excitement. My mum is full of pride.
"I got the call just before I got in the pool, so I sent a message to my missus and had to put the phone away."
England, who have lost back-to-back matches against Scotland and France, are attempting to stop Ireland from claiming the Grand Slam.
'It's a lot quicker, it's more fierce'
Armand was man of the match as Exeter were crowned Premiership champions in 2017 and made his sole England appearance to date on that summer's tour of Argentina.
He said: "It feels great to get a bit of recognition, to come up here and show what I am about whether it is just to train or go and make the 23. It is just a good opportunity and really exciting.
"Everyone is on top of their game so it's the next level up - it's a lot quicker, it's more fierce. And the referees officiate the Premiership a slightly differently way to internationals. You can watch an international and not even notice anything wrong with the breakdown and obviously when it's being highlighted you can pick up a lot of differences."
Armand is rooming with Exeter team-mate Luke Cowan-Dickie, and their evenings are spent going over line-outs before bed.
Any involvement on Saturday would be a fillip for Armand, who has not played for England at Twickenham and aspires to the opportunity.
Brought up in Zimbabwe, his parents were flower farmers who moved to South Africa in 2001 after the land invasions by the Mugabe government made life too dangerous for them to continue working on the farm.
"I'm from Zimbabwe and everyone knows how big an occasion it is to play at Twickenham," Armand said.
"I'll react very excitedly, passionately, enthusiastically but ultimately you've got to be able to pitch up and play rugby whatever is happening outside of you."