Six Nations: Finn Russell urges Scotland to ditch 'nearly men' tag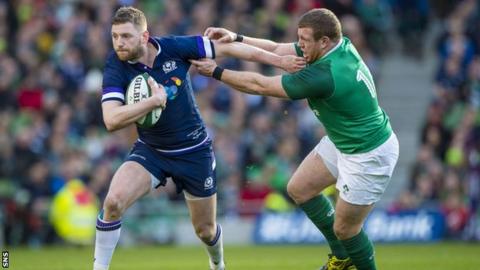 Scotland are determined to shed their "nearly men" tag and be recognised as one of the world's top teams, according to fly-half Finn Russell.
The Scots have won two and lost two of their Six Nations matches and end their campaign in Italy on Saturday.
A win in Rome would see Scotland match last season's total of three victories, and Russell says that would represent progress in their development.
"We're building. The nearly men isn't the name we want," Russell said.
"We are definitely working to change that," added Russell. "In my first Six Nations [in 2015] I don't think we won a game.
"Against Ireland we worked very hard to put the second best team in the world under a lot of pressure, we put New Zealand under pressure in the Autumn, so it shows that on our day we can be there against the best.
"England were second in the world when we played them and we managed to beat them. So it shows on our day we can take anyone."
'We've had a lot of ups and downs'
Scotland's recent improvement has seen them beat Ireland, Wales, Australia (home and away), France and England over the course of the last 14 months.
Their away form in the Six Nations remains a concern though, with heavy defeats at the hands of the Welsh and Irish in this campaign proving they still have a way to go to become as feared on the road as they are at Murrayfield.
However, Russell believes those away struggles are all part of this team's development.
"Ireland was a bit frustrating, they are one of the best teams in the world right now and we created a lot of chances against them, we just weren't able to finish," said Russell, who will leave Glasgow Warriors to join French side Racing 92 in the summer.
"At international level, if you don't take these chances you get punished, as we did against Ireland. It is frustrating.
"But I think as a group of players in the last four years we have had a lot of ups and downs.
"We learned a lot from Wales and we learned a lot from Dublin last weekend. Although it is frustrating, these tough results do help you build.
"As tough as it was to lose in England last year, we were able to win [against them] this year. Hopefully we just finish on a high and go back to our clubs with our heads held high."