Joe Batley: Bristol second row diagnosed with Hodgkin lymphoma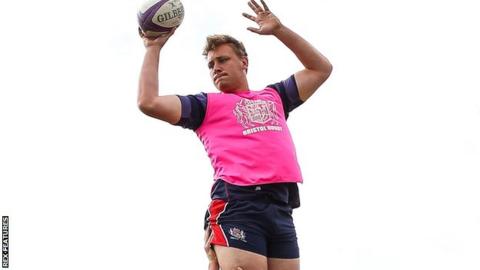 Bristol second row Joe Batley has been diagnosed with cancer and will undergo a course of chemotherapy over the next three to six months.
He was found to have Hodgkin lymphoma after doctors discovered a tumour.
A statement from the Championship leaders said the 21-year-old hopes to be fit during the 2018-19 season.
"Joe's a hugely respected member of the group. His bravery and determination at this early stage underlines his immense character," the club statement added.
"Players and staff were briefed on Thursday and the news has come as a shock to everybody involved with the club. We will ensure that Joe receives the best care and support to aid treatment.
"The club's sole concern is Joe's health and the privacy of him and his family."
On social media, the former England Under-20 international said: "[This is] a challenging set back however I'm lucky to be surrounded by such supportive and loving friends and family, and will come back stronger."
Hodgkin lymphoma is a cancer that affects the immune system.
It is described as an "aggressive" cancer but also as one of the most easily treated types.
You can read more about Hodgkin lymphoma on the NHS website.