Six Nations: How Grand Slam can make Conor Murray & Johnny Sexton Ireland legends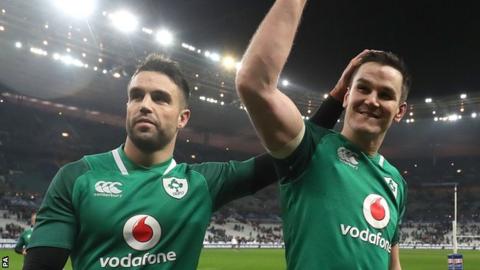 Six Nations - England v Ireland
Venue: Twickenham Date: Saturday, 17 March Kick-off: 14:45 GMT
Coverage: BBC Radio 5 live, live text commentary on BBC Sport website
O'Driscoll. O'Connell. O'Gara. Oh, what a team.
It may only be nine years ago, but the key men from the 2009 Grand Slam loom as large and permanent as Easter Island statues in Irish rugby history.
Deservedly too. Their clean sweep ended a 61-year wait for Ireland's second full house in the tournament.
On Saturday, the class of 2018 can repeat the feat with victory over England.
With history beckoning, coach Joe Schmidt was asked earlier this week who in his side deserves to keep company with those legends.
Schmidt offered a lengthy list of contenders, but only two were prefaced with an "obviously" that suggested their credentials were secure, regardless of the result at Twickenham: Ireland's half-back axis of excellence - Conor Murray and Johnny Sexton.
Without them, any Grand Slam hopes would have been snuffed out long ago.
On the opening weekend in Paris, for 41 cool-headed, clear-eyed phases, with the clock in the red and the rain pelting down, Sexton and Murray drove their side forward while a point adrift of France.
Finally Sexton, having already executed a high-risk cross-kick for wing Keith Earls to buy a few vital yards, drilled over a mammoth match-winning drop goal to define coup de grace for the hosts.
It was the sort of clinical, composed play that, just days before England coach Eddie Jones impolitely carved up the team's constituent parts at a sponsor's event in July 2017, had helped the British and Irish Lions to a share of their summer series against New Zealand.
Only their All Black counterparts from those titanic Tests - Aaron Smith and Beauden Barrett - can seriously claim to be a better half-back partnership. And even then the Irish pair would have their backers.
England's World Cup winner Matt Dawson is among them.
"Never mind a sofa ride, playing nine and 10 behind a New Zealand pack is a luxury-lined chariot," the former scrum-half told BBC Radio 5 live.
"Smith and Barrett are superb players, but they are also supplied a lot of high-quality front-foot ball.
"As a partnership, Murray and Sexton have to control lots of different types of games, often on the back foot. As an opposition player taking on a World XV, I would be more fearful seeing Murray and Sexton on the teamsheet."
The World XV selectors are yet to meet. But this weekend will be the 50th time Murray and Sexton have appeared together in Irish green.
Their partnership is more odd couple than a straightforward match of temperament, though.
"Johnny still finds stuff to give out to me about," Murray complained in November after laughing at their interplay being described as "telepathic".
A couple of months later, one of Sexton's grievances was revealed.
Murray, part of Ireland's self-appointed 'cartel' of in-house pranksters, had stolen a bag of Sexton's laundry and sent his team-mate a video of the petrol-soaked bundle floating down a river ablaze.
"If you can burn a fella's clothes and remain friends, then that's the sign of a tight group," Murray told The Times.
But Murray, now 28, has not always been a big dressing-room noise.
"He was a little more reserved when he came into the team," former All Black wing Doug Howlett, who finished his playing career in Limerick as Murray's began, told BBC Sport.
"He seems to pick on Peter O'Mahony a lot now, which was certainly never the case when Denis Leamy, David Wallace and Alan Quinlan were around. Half-backs hardly got a word in.
"But he was a great young guy, really eager to learn off Peter Stringer and Tomas O'Leary."
What sets him apart from those two was his size. A 6ft 2in and 14-stone-plus frame set on a foundation of boyhood Gaelic football skills allows him to burst through holes around the fringes or train aerial fire on the opposition back three with pinpoint box-kicks.
"The first thing that struck you was how big he is," remembers Howlett.
"He was a new, modern type of scrum-half, who had a bit of size and could play as a loose forward, but also the agility to move and pass the ball quickly.
"Part of my training routine in the week involved having to catch some box-kicks - and even then his ability to kick the ball with those long levers was exceptional."
But for an injury picked up on the opening weekend against Italy, Ben Youngs might well have been the man lining up opposite Murray at Twickenham on Saturday. He knows that Murray's skills make him a potential match-winner.
"Conor becomes a big threat within the 22m. He is a big, physical guy and, especially when he gets within 10m, he often starts challenging the defensive line. That is something the boys will have to be wary about," the England scrum-half told BBC Radio 5 live.
Sexton also confounds positional stereotypes. No 'Teflon Don' of a fly-half, pulling the strings while keeping his knees clean and mind clear, he instead takes the ball flat, welcomes the hits and wears his heart on his sleeve.
As an uncapped 23-year-old, he memorably celebrated a try in Leinster's 2009 Heineken Cup semi-final win over rivals Munster by screaming in the face of opposite number and then Ireland kingpin Ronan O'Gara.
The emotion of the occasion and some lingering trash talk between the pair instigated that incident.
His opponents get only the half of it though. "The Ibrahimovic of rugby" was how one anonymous team-mate described the exacting Sexton in 2015 during his stint at Parisian side Racing 92, referencing the notoriously impatient former Sweden striker now at Manchester United.
The French side's backs coach Laurent Labit went on the record to explain more, saying: "Jonathan had the tendency to employ a rather forceful manner and use a colourful language in the heat of the moment. Sometimes it bordered on insults."
Former Leinster and Ireland wing Shane Horgan told BBC Sport: "He is very demanding, that was clear even as a young player.
"I remember having a shouting match with him. I was on the wing and he was at 10 in the middle of a game against Munster and he wasn't backing down.
"I had been there for about 12 years and he wasn't bothered in the slightest. I thought: 'This guy has a bit about him.'
"We laughed about it afterwards but he had strong opinions on the pitch and he didn't kowtow to anyone - fellow team-mates or opposition.
"I think he has softened a bit since. He handed out a lot of stick and it didn't work perfectly in France because not everyone reacts well to it. Sometimes you need a bit of carrot and I think he has added that to his on-field personality.
"He is a good laugh, but he is serious about his rugby."
He may not be easy, but the best rarely are. And Grand Slams never have been.
When it comes to space - the most precious commodity on the pitch - nobody plays the international market like Sexton.
His career has been spent ruthlessly eking out the percentages and uncovering the wrinkles in a defence.
If he succeeds on Saturday, if Murray's impudence undoes England - perhaps even if they don't - their place among the grand old names of Irish rugby is assured.