Rugby World Cup 2019: Spain's players described as 'hooligans' after Belgium defeat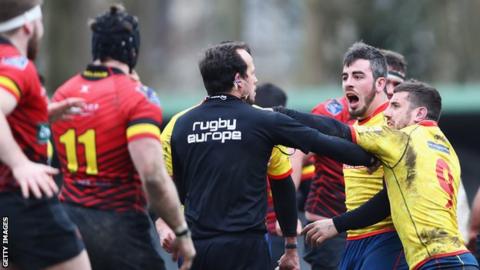 Spain's players acted like "hooligans" after the controversial defeat that saw them miss out on an automatic place for the 2019 World Cup, says the Romanian Rugby Federation president.
Alin Petrache was speaking after Spain's 18-10 loss to Belgium, which saw Romania qualify instead.
Sunday's game had a Romanian referee, and some of Spain's players confronted the official after the tie in Brussels.
World Rugby has said it will examine the "context of events" of the match.
Petrache said he had been "deeply saddened and disappointed by the attitude of the Spanish players, representatives and fans".
He added: "Letting one's emotions get the best of them is a sign of immaturity, that proves that the Spanish team is not ready to face responsibly the challenges an elite competition involves.
"There is no room for hooliganism, misconduct and denigration in rugby."
The Spanish Rugby Federation has lodged a formal complaint to World Rugby and Rugby Europe over decisions it feels were made in Belgium's favour.
"We weren't allowed to play," said Spain coach Santiago Santos after the game.
"The difference between penalties against us and for us was huge. When we were trying to come back in the game the play kept on being interrupted."
Romania took the automatic European qualifying spot for next year's tournament in Japan, with Spain entering the play-offs.
There they will face Portugal, with the winners meeting Samoa in a two-legged tie for a place at the World Cup.