Welsh Rugby Union board to be 'significantly streamlined'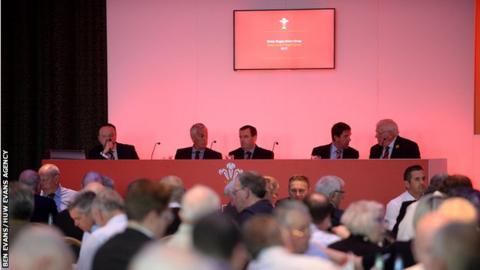 The Welsh Rugby Union is to split control of the professional and community sides of the sport in Wales.
The professional game will be run by representatives of the WRU and the four professional sides, together with independent members.
There'll also be a cut in the numbers of the union board from 20 to 12.
The plans have been approved by the union board, and will go back to the clubs in October.
The shake-up has been designed to counter concerns that largely amateur clubs have too much say in the administration of the professional end of the sport, and that the 20-strong WRU board is too unwieldy, with 14 members coming through the districts.
In future club representatives would be cut to just five, though not necessarily chosen on a regional basis, while the overall board would also include the chairs of the professional and community organisations.
"It's been a consultative approach, we've talked to the clubs," said WRU chairman Gareth Davies.
"We're looking at having a professional game board and a community game board. We're paying equal attention to both, so neither side is being marginalised or disadvantaged."
Davies, a former Wales fly-half and ex-chief executive of the Dragons region, was elected as WRU chairman in 2014 on a platform of healing rifts between the union and the four professional teams in Wales.
"The professional game.. means Team Wales and the four regions together. There will be people from the union, people from the regions and a couple of independent members who will have a more neutral view," he explained.
It will also have to reach a new "Professional Rugby Agreement" to replace the current "Rugby Services Agreement", the deal under which regions are rewarded for their players joining the national squad, among other issues.
The new set-up would also include a "community council" to bring more diversity to the game in Wales, which would include representatives of the women's game, the world of education and disabled sport.
With just one woman, independent director Aileen Richards, currently on the WRU board, it is hoped the council will allow more women administrators to work their way up the ladder.
The proposals will be put before the clubs at the next annual general meeting in October 2018.