'Super Six': 12 Scottish clubs submit applications for semi-professional set-up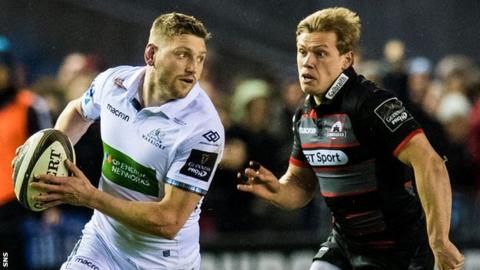 Scottish Rugby will assess applications from 12 clubs to become one of its six new semi-professional franchises.
Nine of the existing 10-team BT Premiership, which will be replaced by the new 'Super Six' set-up from season 2019-20, have submitted applications.
The exception is bottom club Marr, while three clubs from the next tier down, National 1 - Edinburgh Academicals, Dundee and Gala - are also interested.
The six successful applications will be announced on 1 May.
A panel including Scotland head coach Gregor Townsend, Scottish Rugby chief executive Mark Dodson and Gemma Fay, the governing body's new Head of Women & Girls' Rugby, will assess the applications against the criteria outlined in the franchise documents and hold review meetings with each of the potential franchises.
The panel, chaired by Sir Bill Gammell, a respected businessman and former Scotland international, will then provide a recommendation to the Scottish Rugby Board, which will decide the six successful franchises.
At least one will be based in each of Scotland's four regions - Caledonia, Glasgow & West, Edinburgh & East, and the Borders.
There are only two applicants from the Caledonia region - Dundee and Stirling County - with none forthcoming from Aberdeen, and two from Glasgow & West - Ayr and Glasgow Hawks.
Five Edinburgh clubs - Boroughmuir, Currie, Edinburgh Accies, Heriot's and Watsonians - have applied, along with three from the Borders - Gala, Hawick and Melrose.
Scottish Rugby hope the 'Super Six' set-up will bridge the gap between the club game and Scotland's professional sides, Edinburgh and Glasgow Warriors.
"I would like to thank all the clubs which have engaged with us in recent months as part of the application process to establish Super Six," said chief executive Dodson.
"The level of interest and positivity around this crucial development for the top tier of Scotland's club game has been remarkable and is reflected in the significant number of high quality applications we have received."
Scottish Rugby's new domestic set-up, from season 2019-20
A semi-professional "Super Six" replaces the amateur BT Premiership
Directly below this will be an all-amateur 12-team Championship
This will sit above a three-tier National League system
What is happening?
The Super Six is part of a £3.6m overhaul of domestic rugby in Scotland
At least one Super Six franchise will be based in each of Scotland's four regions - Caledonia, Glasgow & West, Edinburgh & East, and the Borders
The Super Six teams will play 20 competitive matches per season, including cross-border fixtures against sides from Wales, Ireland or England
Each squad will comprise no more than 35 players, who can be paid a salary no greater than £12,000 per annum
Scottish Rugby will contribute £62,500 towards player remuneration, which the franchise must match, and £75,000 towards hiring a full-time head coach and support staff
Union committed to an annual spend of £137,500 per franchise, per season, for five seasons - a total investment of just over £4.1m.
The deadline for applications was 31 March; the six franchises will be named on 1 May.
Super Six begins at the start of season 2019-20.
Which clubs have applied?
Ayr, Boroughmuir, Currie Chieftains, Dundee, Edinburgh Academical FC, Gala, Glasgow Hawks, Hawick, Heriot's, Melrose, Stirling County, Watsonian FC.
Who will decide?
Sir Bill Gammell (chair) - businessman and former Scotland international
Stewart Harris - Chief Executive - sportscotland
Andrew Healy - Director of Finance - Scottish Rugby
Gregor Townsend - Scotland National Team Head Coach
Gemma Fay - Head of Women & Girl's Rugby - Scottish Rugby
Stephen Gemmell - Technical Director - Scottish Rugby
Mark Dodson - Chief Executive - Scottish Rugby