World Rugby wanted Spain v Belgium replay, now looking at player eligibility issues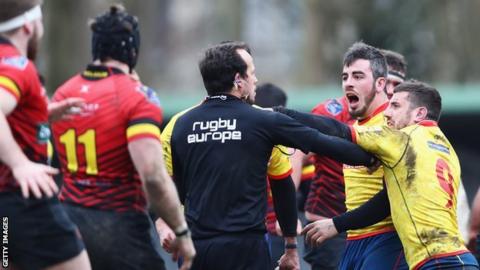 World Rugby wanted Spain's controversial World Cup qualifying defeat by Belgium to be replayed but is now also investigating if nations used ineligible players in the tournament.
Spain lodged a formal complaint to World Rugby and Rugby Europe after their shock 18-10 defeat on 18 March.
The match was refereed by Romanian Vlad Iordachescu, with the result handing Romania an automatic qualifying spot.
World Rugby said he was "not neutral in the context of qualification".
An independent disputes committee will now look into issues arising from the 2017 and 2018 Rugby Europe Championship, which served as the European qualification process for the 2019 World Cup in Japan.
Rugby's world governing body said it was "deeply concerned" that Rugby Europe had appointed a Romanian referee and had failed to act after Spain complained prior to the match.
"Having considered all available information, the World Rugby executive committee and Rugby World Cup board felt that a replay would be in the best interests of the game," it said in a statement on Thursday.
However, it added it had subsequently received "new information relating to player eligibility" from nations taking part in the last two championships.
"Given this information concerns potential breach of World Rugby regulations and given the complexity and interconnectivity of the issues, a full and independent review is warranted," the statement continued.
"This is in the best interests of the sport, teams and fans and is fully supported by Rugby Europe."
Spanish players confronted Iordachescu at the final whistle, feeling he had made decisions in Belgium's favour.
Romanian Rugby Federation president Alin Petrache accused Spain's players of acting like "hooligans" after the defeat.
Rugby Europe has appointed a separate independent judicial panel to review the conduct of the players.
The result currently means Spain face Portugal in the play-offs, with the winners meeting Samoa in a two-legged tie for a place at the World Cup.
Analysis
BBC Radio 5 live rugby union reporter Chris Jones
This story has escalated to the point that questions are being asked whether the Rugby Europe Championship itself is fit for purpose.
And given that tournament acts as a qualification process for Japan next year, the whole integrity of the Rugby World Cup is also at stake.
Numerous unions have made numerous accusations concerning ineligible players, and this is all after World Rugby decreed the Belgium v Spain game should be replayed because the referee was not from a neutral country.
What happens now is anyone's guess, but I understand there is a distinct possibility a new match - or series of matches - will need to be arranged to determine who qualifies for the World Cup.