Richard Cockerill: Edinburgh 'still have everything to play for' in play-off pursuit
Last updated on .From the section Rugby Union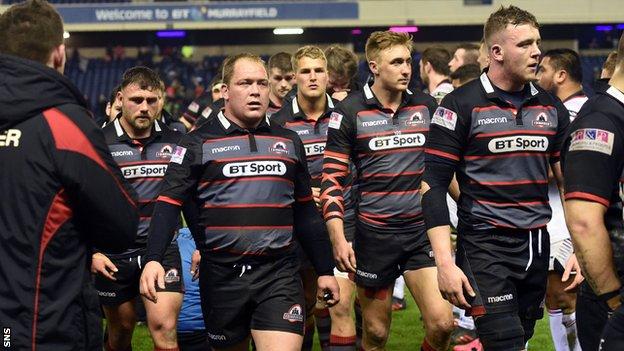 Head coach Richard Cockerill insists Edinburgh's fate is still in their own hands after losing 32-20 to Ulster.
Edinburgh, who are third in Pro14 Conference B, now lead Ulster by eight points with two games left to play, while Ulster have three.
The top three sides in each conference progress to the play-offs.
"We'll be up for the fight, we'll roll our sleeves up, we'll work hard and we've got everything to play for still," said Cockerill.
"Scarlets (who are two points ahead of Edinburgh, and play Glasgow on Saturday) are coming here next week, they're a fantastic side. It's in our own hands, it's as simple as that. We've got two games to go and we've got to take as many points as we can.
"There's always going to be a stumbling bock on the way and the last two weeks, we've certainly stumbled but the only way to do it is be honest with ourselves and go out on the training field and keep working hard at it.
"There's no magic formula. What do we do? We all go home and cry and don't come back on Monday?
"We've got to come back in on Monday, we've got to look at it and we've got to work harder."
After Scarlets' visit to Murrayfield next Saturday, Edinburgh welcome Conference A leaders Glasgow on 28 April. As well as a play-off spot in the inaugural Pro14, Edinburgh are hoping for a top-three finish to secure a European Champions Cup place next season.
"We got what we deserved again really, and we've got to learn quickly to turn up and play in these big games," Cockerill said of the home defeat by Ulster, which followed last week's Challenge Cup quarter-final loss to Cardiff Blues.
"Historically we haven't and we've got to have a hard look at ourselves and be honest with ourselves on Monday.
"I'm always concerned when you lose; I'm not sure it's about running out of steam. It's actually getting it right on the big occasion. We, at this point, haven't done it.
"When we surprise teams, we seem to turn up but tonight we know if we win, we're where we'd like to be and clearly we're not coping with that as well as we'd like.
"There were some schoolboy errors around the defence tonight and we have to be better. The only way to get better is to look at it, show it, work on it and pick the guys that want to do it and we have to keep working hard and that starts with me. I pick the team; if they don't perform, that's my fault."