Bryan Redpath to coach Scotland Under-20s at World Championship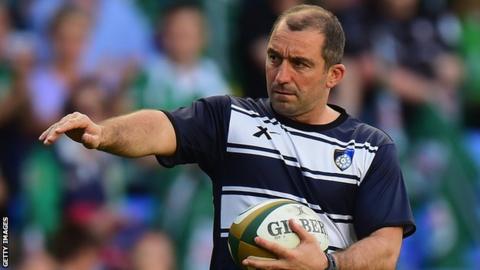 Former Scotland scrum-half Bryan Redpath will take charge of Scotland Under-20s for their World Championship campaign in France next month.
Redpath, 46, returns to coaching after leaving English side Yorkshire Carnegie last year to take up a business role.
He will head up the Scottish coaching team, with ex-Edinburgh hooker Steven Lawrie as forwards coach and former Scotland wing Nikki Walker backs coach.
Walker was attack coach under Stevie Scott during the Under-20s Six Nations.
That campaign was marred by an incident before a 36-3 defeat by Wales in February when several members of the Scotland U20s backroom staff - including Walker - were suspended following a late-night dispute in a bar two days before the game.
Redpath won 60 caps - 26 as captain - and featured at three World Cups, as well as helping Scotland to the last-ever Five Nations Championship title in 1999.
After a club career starting at Melrose and taking in French side Narbonne and English outfit Sale Sharks, he coached at Gloucester, Sale and Leeds (later Yorkshire) Carnegie before leaving at the end of last season.
"After 17 years of both playing and coaching in England, I'm delighted to be returning home to coach such a talented group of players," said the Borderer.
"I'm really looking forward to working alongside Steve and Nikki, both of whom are gifted coaches, and it's going to be a great experience leading this squad into next month's tournament.
"It's a proud moment for me, and I will hopefully be able to create a platform which then acts as a springboard for some of these players to go on to bigger and better things."
Scotland finished bottom of the recent U20s Six Nations, their sole victory a 24-17 win over England at Myreside, where Lawrie recently coached Watsonians to a top-four finish in the BT Premiership.
Scotland's World Rugby Under-20 Championship fixtures:
Wed 30 May - Italy in Beziers (17:30 BST)
Sun 3 June - Argentina in Perpignan (13:00 BST)
Thu 7 June - England in Beziers (20:00 BST)