Israel Folau: Rugby Australia will not punish full-back for anti-gay remarks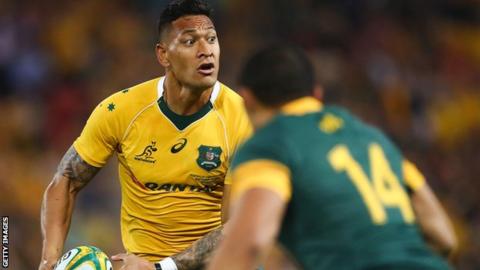 Australia full-back Israel Folau will not be punished by Rugby Australia (RA) for anti-gay comments on social media.
Earlier this month, Folau, 29, suggested gay people would end up in hell and the governing body said it did not support his view.
In a Players Voice column titled "I'm a sinner too" on Monday, he offered to "walk away" from his contract "if the situation had become untenable" for RA.
He also tried to explain his remarks and RA says it accepted his "position".
Chief executive Raelene Castle said: "Israel clearly articulated his religious beliefs and why his faith is important to him, and has provided context behind his social media comment.
"In his own words, Israel said that he did not intend to upset people intentionally or bring hurt to the game. We accept Israel's position.
"Rugby Australia will use this experience as an opportunity to remind all employees of their obligation to use social media in a respectful way."
Last year, Folau prompted disagreement within the Australia team after he posted on Twitter about his opposition to same-sex marriage in the build-up to the country's vote on the issue.
His latest comment was a response to an Instagram user who asked: "What was god's plan for gay people?"
Folau replied: "Hell... unless they repent of their sins and turn to God."
The comment was later deleted, but screenshots of the exchange drew condemnation online.
Folau's contract with RA expires at the end of the season and he denied he was trying to get "a release" from that to pursue a deal in the NRL, where he used to play for Brisbane Broncos and Melbourne Storm.
"That simply isn't true," he wrote in his Players Voice column. "There have been rugby offers from the UK, Europe and Japan that are way above anything I could earn in Australia.
"This is not about money or bargaining power or contracts. It's about what I believe in and never compromising that, because my faith is far more important to me than my career and always will be."