Five Spain players banned for referee confrontation after Belgium defeat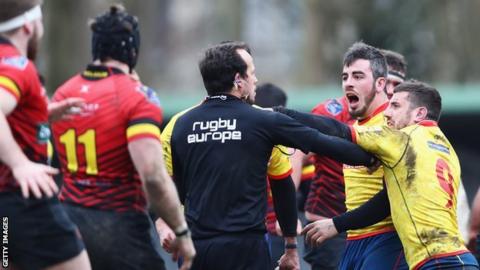 Five Spain rugby internationals have been given bans totalling more than two years for confronting the referee after their team's controversial World Cup qualifying defeat by Belgium in March.
Spain lodged a formal complaint after their shock 18-10 loss on 18 March.
The match was refereed by Romanian Vlad Iordachescu, and the result ensured Romania won an automatic qualifying spot.
Rugby's world governing body said it was "deeply concerned".
On Wednesday, Rugby Europe announced that its judicial committee had banned two players, Guillaume Rouet and Sebastien Rouet, for nine months and more than 10 months respectively for physical and verbal abuse of Iordachescu.
Three other Spain players, Pierre Barthere, Lucas Guillame, and Mathieu Belie, have been banned for three and a half months for 'threatening actions/words' to the official.
The sanctions apply to club and international fixtures and the players have the right of appeal.
Rugby Europe said a separate misconduct complaint against the Spanish Rugby Union was suspended until a further hearing date is set.
"We weren't allowed to play," said Spain coach Santiago Santos after the game. "The difference between penalties against us and for us was huge. When we were trying to come back in the game the play kept on being interrupted."
Romania took the automatic European qualifying spot for next year's tournament in Japan, with Spain entering the play-offs.
There they will face Portugal, with the winners meeting Samoa in a two-legged tie for a place at the World Cup.