Israel Folau: New Zealand pair condemn anti-gay remarks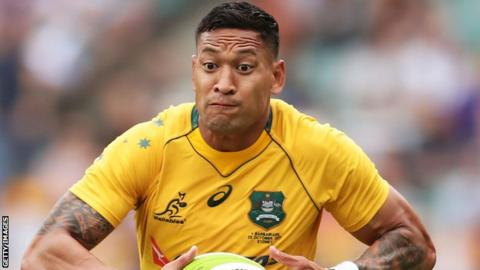 New Zealand's players have added to the criticism of Australia full-back Israel Folau over anti-gay comments.
Earlier this month. Australia full-back Folau, 29, said on social media that gay people would end up in hell.
TJ Perenara, who has 42 caps, has joined fellow scrum-half Brad Weber in condemning his remarks.
"Let it go on record that I am 100% against the comments that were made by Israel. It was not OK to say that," he said on Twitter.
"It's not an attitude I want to see in the game I love. There is no justification for such harmful comments.
"As professional rugby players, whether we like it or not, we are role models for a lot of young people."
Rugby Australia said it would not punish Folau for the remarks, but Waikato Chiefs player Weber earlier posted on Twitter: "Sick of us players staying quiet on some of this stuff. I can't stand that I have to play this game that I love with people, like Folau, who say what he's saying."
"My cousin and her partner, and my aunty and her partner are some of the most kind, caring and loving people I have ever had the pleasure of knowing.
"To think that I play against someone that says they'll go to hell for being gay disgusts me."
Weber, who won one cap against Samoa in 2015 and is in contention for selection again this season, was backed by the New Zealand Rugby Players' Association (NZRPA).
"Obviously it's personal and he felt strongly about it," NZRPA chief executive Rob Nichol told local media.
"His message is 'I don't like that negative stuff from Israel, I don't respect it, and I'm going to send a positive message in this space'. Good on him for doing it."
Folau also found himself at the centre of controversy last year after he publicly opposed same-sex marriage in the build-up to Australia's vote on the issue.