Pro14 discusses formation of possible development league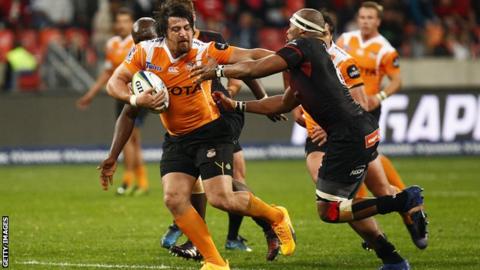 The Pro14 has entered early discussions with its Celtic, Italian and South African stakeholders over the formation of a development league.
The configuration and specifics of the tournament are not yet clear, save that it would come below the Pro14.
A decision on whether to implement the concept is unlikely before the end of the league season next month.
"We are always looking at ways to improve the development of players in the Pro14," a league spokesperson said.
"We have a good track record of doing that with 295 international players appearing during the 2016-17 season, including 26 players called up to the British & Irish Lions' tour to New Zealand.
"A development competition is one idea that has been discussed but we are at the early stages in the process."
The Pro14 currently comprises four Irish, four Welsh, two Scottish, two Italian and two South African teams.
The English Premiership introduced an 'A' league in 2003, but it has been heavily criticised recently for the number of postponed or unfulfilled fixtures, with some players also asked to feature for their senior and 'A' teams in the same week.
Scottish Rugby had no comment to make regarding a Pro14 development league.
Aiming to bridge the gap between its domestic BT Premiership and Pro14 sides - Edinburgh and Glasgow Warriors - the governing body will create a six-team semi-professional competition from season 2019-20.
There have been 12 applications for 'Super Six' franchises, with Scottish Rugby to announce the successful applicants on 1 May. Those candidates will view ruminations over a Pro14 development league with interest.