Dylan Hartley: Danny Care says England captain 'won't do anything stupid'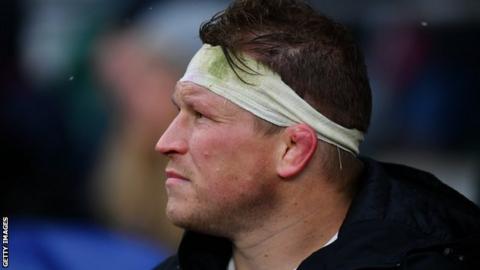 England captain Dylan Hartley "won't do anything stupid" after his latest concussion setback, says team-mate Danny Care.
Hartley has not played since the Six Nations and has been ruled out of the summer tour of South Africa.
The 32-year-old also missed a large chunk of the season in 2016 after twice suffering concussion.
"He knows what is best for him. He'll only come back when he's right," Care told the Rugby Union Weekly podcast.
"It's not been the first time, but I'm sure him and Northampton and England will seek the right advice and will get the right treatment and necessary rest and he won't do anything stupid.
"I know Dylan well and he'll be fighting to get back as soon as he can."
Hartley has targeted a return in pre-season for Northampton, with the World Cup looming next year, and said in a post on Instagram: "I'll be back next season to help my respective teams push on."
Hartley sustained a delayed concussion after England's defeat by Ireland at Twickenham in March and is understood to still be experiencing "good days and bad days" during his recovery.
"It's really tough for Dylan. I'm sure he's bitterly disappointed," said Care, who has played alongside Hartley for a decade.
"But you've got to listen to the medical advice, and if he needs a rest he needs a rest.
"It might be the best thing for Dylan. He's had a big few years, it's tough being England captain, and it might just be the rest he needs to hit the ground running."
Consequences 'scary'
Hartley's Northampton team-mate Rob Horne was forced to retire this week after suffering life-changing nerve damage to an arm during the Premiership game against Leicester on 14 April.
Harlequins scrum-half Care said the dangers in the modern game are "scary".
"It's a dangerous sport and I'm fortunate that in the position I play I don't get involved in as many collisions as a centre or a hooker would do," he said.
"It's sad to see players struggling. At Harlequins over the years Mike Brown had to take an extended rest with concussion. Francis Saili this year was out for three or four months with swelling on the brain and he wasn't allowed to play because it was too dangerous.
"It's a serious issue, people getting knocks to the head and having to retire after one tackle or collision in a game. It's scary."