Edinburgh v Glasgow: Warriors stalwart Rob Harley relishes derby encounter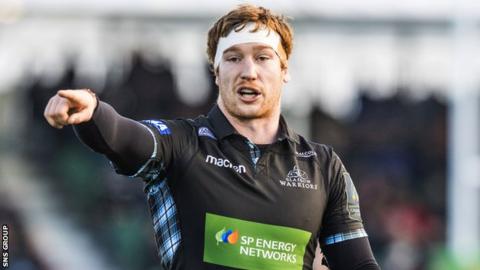 Pro14: Edinburgh v Glasgow Warriors
Venue: Murrayfield Stadium, Edinburgh Date: Saturday, 28 April Kick-off: 19:45 BST
Coverage: Listen on BBC Radio Scotland & BBC Sport website
A few months back, a member of the Scotland backroom staff was shooting the breeze and putting the rugby world to rights with an analyst at one of the Pro14 teams.
The pair chewed over tactics and form and the early throes of the Six Nations, but mostly they spoke of a Glasgow Warriors juggernaut careering its way to the league semi-finals.
Over the course of their chat, one player's name was a constant. The man, the analyst said, his team loathed above all others.
Was he talking about Stuart Hogg, Scotland's finest talent? Nope. Huw Jones, then, the absurdly prolific centre? Not him. What about tackle-machine Jonny Gray? Guess again. Not colossus Callum Gibbins, not Finn Russell, the impish pivot, nor any of the Warriors who dazzled in Scotland's Six Nations travails.
"Rob Harley," the analyst said. "The boys just hate him. You can hit him, you can kick him, you can smash him as much as you like, and he keeps coming back. He loves it."
Harley's contribution to a team that plays with such beautiful abandonment is not always apparent to the casual observer, but nobody at Scotstoun under-estimates it. None of the Warriors lot speaks of the back-row in anything but the most glowing of terms.
"The characteristics of the squad are that we're determined, we're ruthless, we like having a challenge," Harley says.
"The chaos comes from empowering guys to play what you see. Even if we're in our own half, we're going to keep attacking if that's where space is.
"If you're winning turnovers, that's great to attack from, or if you get the chance when the ball hits the deck or by creating quick ball - there are different ways to create that chaos.
"We're dotted with guys where, if you give them half a yard of space, they're going to do amazing things. It's exciting to play that style of rugby where we're constantly looking for chances and we can play from anywhere."
'I thought I had someone's tooth sticking out of me'
Glasgow talk of tempo and speed, but to send the train steaming down the tracks, you need grafters like Harley shovelling the coal.
He revels in the close-quarter skirmishes. Week after week, he bludgeons himself senseless.
"We were playing Scarlets away a couple of years ago and I'd hit a ruck and I came up and my thumb was quite sore," the 27-year-old recalls.
"I looked down and saw a little bit of white on the side. It looked very much like a molar-shaped tooth. I thought I had someone's tooth sticking out of me.
"We made a half-break down one side, I came up and the pain in my hand just grew, so I was shouting, 'Don't pass to me!', but I stood in the line just so they had something else to defend.
"I eventually realised by looking at it - that was my bone coming out. I thought I'd caught somebody in the mouth and come away with a tooth."
King Kellock shows the way
Recently, Harley broke Warriors' all-time appearance record. He has racked up 182 outings in nine years, played in roughly 80% of all Glasgow matches since his debut in 2009, and is heralded as one of the most ferocious competitors in the Pro14.
All that didn't happen by accident. When he joined the club, a teenage beanpole with all the hunger to succeed but little understanding of what lay ahead, Harley was assigned the ultimate mentor.
Captain Al Kellock became one of his earliest and most profound influencers. "Big Al" was a towering man in every sense; nearly seven feet tall and the embodiment of Glasgow rugby. He showed Harley what it took to be a professional, and what it meant to be a Warrior.
"He was quite intimidating," Harley recalls. "I'm just over 6ft 5in and he towered over me.
"Al was good at showing what was expected, the way you worked on the field and off it, keeping balance around your life so that you develop.
"No matter how switched-on you are, it is a big step up to being a full-time professional. There's so much you don't know about the game.
"Glasgow now are a lot more conscious about mind-set, nutrition, sleep, all the little things. When I came through there wasn't the same infrastructure. Al showed the way.
"He helped me keep the head up when not selected, keep believing in myself, keep pushing to improve.
"It's really frustrating when you can't play, but you take that mindset of 'this is what I've got to do this week; this is what I'm going to get better at'. You take that mindset and apply it to everything in your career."
'This is always the biggest match of the year'
Glasgow have not scaled the heights of their early-season, 10 wins-from-10 Pro14 rampage since the turn of the year.
They have done enough to stay top of Conference A and wrap up a home semi-final.
However, a strong team lost at Ulster last weekend and Saturday brings a stern test against Richard Cockerill's Edinburgh at Murrayfield.
"A derby always adds more energy and excitement," says Harley. "You know a lot of their tendencies well because you've played with them.
"Because it's Glasgow-Edinburgh, there's that desire behind it. For me, looking on the calendar, that's always the biggest match of the year.
"We know there's a lot for us to solve from Ulster, and we get the chance to correct that.
"Part of it is getting quick ball for us to attack with and in defence, just having good line speed to put teams under pressure.
"If we get that complete performance, that'll lead us on well into the play-offs. It'd be good to go out and show that we're firing on all cylinders."