Ulster Rugby: Core values will bring success says Anderson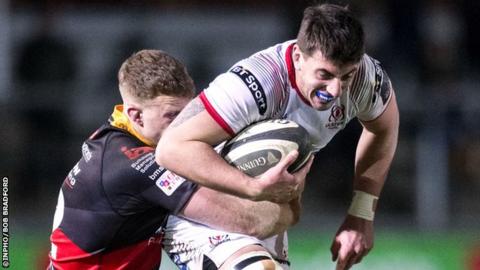 Willie Anderson has insisted that renewing and emphasising Ulster Rugby's core values are vital to the province's future success.
The former Ireland lock is currently Ulster's elite professional development officer and works as a forward specialist for both the Academy and Ulster 'A' team.
Anderson identified the core principles as "not getting too far ahead of yourself, having respect for everyone around you and trusting the people that you're playing with".
Ulster have endured a turbulent season both on and off the pitch but Anderson foresees a bright future.
'Culture vitally important'
"Our culture is vitally important, particularly at the academy level," said Anderson, who played for the province during the 1980s.
"There are values that no matter what sport you play you have to have. That culture has to be renewed and added to. That's vitally important."
Anderson, who took up his current position in 2016, stressed that there is reason for optimism among Ulster fans given the talent coming through the academy system.
"In the next few years it's got to be like what Leinster went through a couple of years ago when they blooded a lot of young players.
"That's what our job has to be geared towards - blooding these young guys while also maybe bringing in a couple of marquee players."
Matthew Dalton, Tom O'Toole and Aaron Hall are among the players from the development system to have made their first team debut this season.
Anderson believes that young players will continue to break into the team over the coming years.
"We will probably have about 15 or 16 guys who over the next two years will play for Ulster at some stage.
"The most important factor we want above anything else from these players is that they have the desire to play for Ulster, they have to have that extra piece.
"Just having the competency to be a good player isn't good enough, they have to have the character to go on."
Head coach Jono Gibbes will vacate his role at the end of the season and return to his native New Zealand, having replaced Les Kiss, who left his position as Director of Rugby in January.
Creating 'warriors'
The prospect of a third new head coach in six months does not present a problem to development players or coaches, insisted Anderson.
"We try to develop the players so that no matter who comes in as a coach or head coach we will have players who will fit into any sort of regime.
"The basic skills have to be there and they also have to have other aspects [to their game]"
Anderson referred to the creation of "warriors" at youth level as something on which an emphasis has been placed.
"We call them 'warriors', guys who have got something else so that when they cross the whitewash they can turn on the animal that we know is there."
Ulster face Munster at Thomond Park on Saturday knowing that they need a bonus-point win in order to have a chance of making the Pro14 play-offs.