Banned university cup team step back from legal action over final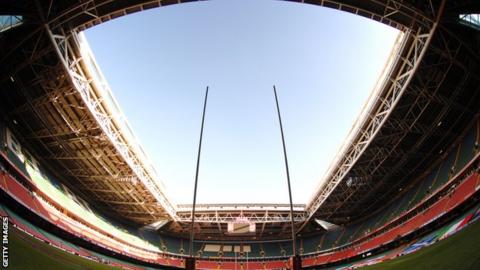 The rugby team who were kicked out of a Welsh rugby cup final claim they received legal advice that could have stopped the game going ahead.
Cardiff University were barred from facing Porthcawl by a Welsh Rugby Union (WRU) ruling over player eligibility.
Instead the side they beat in the semi-final, Pembroke, will face Porthcawl on Sunday, 29 April.
The university say preventing the final going ahead "would not be in anyone's best interests".
Cardiff University will miss the final at Cardiff's Principality Stadium on saying they have played in such competitions for 46 years.
But Pembroke lodged a complaint after their 32-12 defeat on 31 March and an independent WRU panel ruled the university side had breached eligibility rules.
'In the competition since 1972'
However, the university insist their selection has been consistent since they first competed in the competition in 1972.
Cardiff University say they have been told they should not have been in the event in the first place.
The university's head of sport Stuart Vanstone said: "The panel decided we had fielded ineligible players, even though we had successfully evidenced to the WRU competitions management committee that dispensation had been provided to enable our students to compete in WRU competitions.
"We have sought legal advice and we have been told that we would be successful in seeking an injunction to prevent the final taking place on Sunday to enable further dialogue.
"However, we have taken the view that we do not wish to be drawn into a long-standing dispute with the WRU and this course of action would not be in anyone's best interests."
Meeting with WRU chiefs
Vanstone says university officials also welcome an invitation to discuss the issues raised in the case with WRU Group CEO Martyn Phillips, head of rugby operations Julie Paterson and head of rugby participation Ryan Jones.
"We wish to ensure that it does not happen again in the future to us or any other member club," added Vanstone.
Pembroke play in Welsh National League Division Three West A and Cardiff University have just been promoted to BUCS Super Rugby, the highest level of university rugby union, featuring 10 men's teams across England and Wales.
An initial WRU hearing found in the university's favour, but Pembroke successfully had the decision overturned on appeal.
The Bowl final is part of a day that also sees the WRU National Cup and Plate contested.
The WRU National Bowl made headlines last year as well when former Wales and British and Irish Lions wing Shane Williams competed for his village team, Amman United.
'It was not a fair outcome'
Pembroke forwards coach Kyle Davies said: "We could see they had five or six players playing that day whose standard was a lot higher than ours.
"We were disappointed after the game and we looked into it and saw some were Championship level players and some had already played in the cup for Cardiff RFC.
"It was not a fair outcome for our boys.
"With the Bowl rules, we cannot pull in players and our argument was that no team should be able to do it.
"We should not be playing against semi-professional players.
"We aren't blaming Cardiff University, it was something that needed to be looked at and now it has been."