London Irish: Two strong leagues better than one, says CEO Brian Facer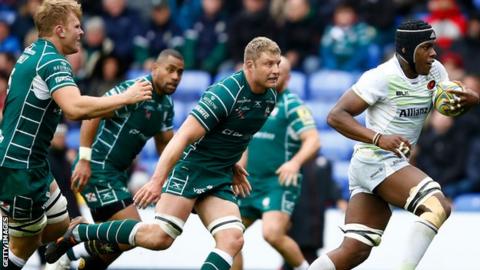 London Irish chief executive Brian Facer believes Championship clubs need more funding to ensure they are able to handle promotion to the Premiership.
Irish were relegated for the second time in three seasons on Saturday after Worcester beat Harlequins.
"I believe there's strength in having two leagues as opposed to one that just goes around in circles," he said.
Irish's relegation means a promoted club has gone straight back down in four of the past five seasons.
Bristol will take their place next season, having won promotion at the first time of asking.
Facer's advocacy for a more competitive Championship comes amid the re-emergence of the possibility of Premiership ring-fencing.
Scrapping promotion and relegation for a number of seasons could effectively close the door on Irish - one of 13 Premiership shareholders - being able to return in the immediate future.
'Find a balance'
"It's about making sure Championship clubs are funded well enough to be able to give them the chance to build facilities to get in the Premiership," Facer said.
"The end-goal should be: what's good for the two leagues and how do you bridge that gap?
"There's got to be a willingness to do it in a fair way for all clubs. You certainly can't be looking to kill a club if they're a [Premiership] shareholder."
He added: "There's a good deal of work that needs to be done in the background. I don't think it's been done to its fullest capacity yet.
"You've also got to be fair to the Championship clubs. There's a number who have an ambition to come into the Premiership. I don't think you should shut the door on any club that wants to do better for themselves.
"You've got to allow more clubs to pay for themselves and make money. Eleven out of 12 Premiership clubs this year will lose money, I think."
Championship will be 'hard graft'
Irish suffered their 18th league defeat of the season on Sunday, when they went down 51-14 at home to Saracens.
And next season, they will return to a second tier featuring a number of clubs who have already invested heavily in their squads, recruiting players with top-flight experience.
Ealing Trailfinders, Yorkshire Carnegie and National League One champions Coventry will all arguably consider themselves promotion contenders.
Irish will be without winger Alex Lewington, who is joining Saracens, and two academy graduates - winger Joe Cokanasiga and centre Johnny Williams - are rumoured targets for Bath and Newcastle respectively.
"There's some ambitious clubs in that competition, we'd be foolish not to believe that," Facer said.
"We're confident we're building the right blocks moving forward to get back into the Premiership, but we take nothing for granted.
"It's going to be hard graft and we've got to work hard to get ourselves back into that position."
No immediate plan to leave Reading
Facer, who joined the Exiles as successor to Bob Casey in October, confirmed the club will continue to play home matches at Reading's Madejski Stadium next season.
"We're still looking at our options," he told BBC Radio Berkshire. "When we're ready to make a decision, we'll make an announcement."
Irish have been granted a licence to play rugby at Brentford FC's planned new Lionel Road stadium, but Facer suggested there are currently no plans to opt out of the deal at the Madejski Stadium, which runs to the 2025-26 season.
"It could be we'll be staying in Reading for the foreseeable future," Facer added. "But, we have to make the right decision for the club going forward."