Pat MacArthur: Glasgow Warriors hooker to retire from rugby & pursue new career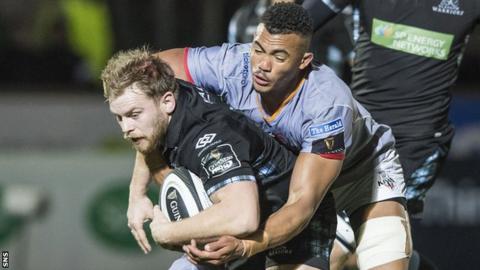 Glasgow Warriors hooker Pat MacArthur will leave the club at the end of the Pro14 season as he retires from rugby to pursue a new career.
The Scotland international, 31, has been with Warriors - his only professional club - since 2007.
He has made 165 appearances for Glasgow and won six Scotland caps.
"I believe it's the correct time for me to move on and transition into the next part of my life," MacArthur told Warriors TV.
"I don't live too far from Scotstoun, so I hope to be able to come down and support the team. It'll be different sitting in the stands and not being able to do anything to help.
"I've continually looked at a double career path and now I'll hopefully have the opportunity to move into construction or project management after studying civil engineering at university, which will provide me with a different challenge."
Warriors assistant coach Kenny Murray added: "Pat has been one of the most respected Warriors over the past 11 years.
"He has been a key part of our leaders group over recent years and has always been a player that others look up to and hold in huge esteem."