Danny Care: New Harlequins boss needs to bring 'drastic change' says England scrum-half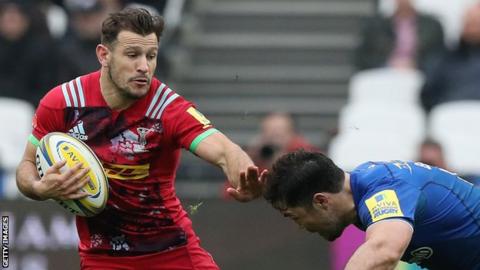 The new Harlequins boss will need to bring "drastic change" to the club next season, says England's most-capped scrum-half Danny Care.
Director of rugby John Kingston will leave at the end of the season after a disappointing Premiership campaign.
Quins are 10th in the table, level on points with second-bottom Worcester.
"We need something completely different. It's been quite similar for a while now and we've got progressively worse," said Quins' Care.
"Those are the bare facts of it. My personal opinion is we need drastic change."
Quins are in the process of recruiting a new director of rugby, with candidates from both overseas and England being considered.
"Someone needs to come in and have a real good look at it, from top to bottom, and change whatever he may change," said Care, who co-presents the Rugby Union Weekly podcast.
"As a person who only has a year left on his contract, that might mean I'm surplus to requirements the year after.
"But the best thing for the club is that someone comes in, stamps their authority on it, and hopefully gets the club back to where it should be."
Last weekend's 44-13 defeat by Worcester was Quins' fourth heavy loss in a row and Care admits the players are "embarrassed" by their slump in form - the club have only registered one league win in 2018.
"Our defence hasn't been good enough all year, we are shipping too many points," added the former club captain.
"I can only apologise to Quins fans out there. Believe me, we are trying."