Super Six: 'Illogical' not to have a Glasgow franchise - Hawks chief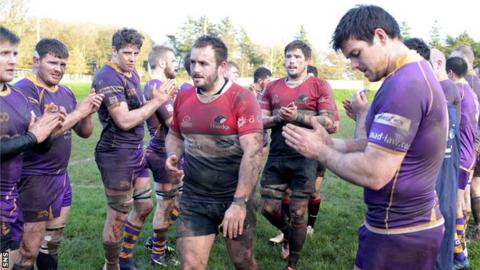 Glasgow Hawks president Kenny Hamilton says the failure to select any Glasgow-based franchise for the new Super 6 competition is 'illogical'.
Hawks were one of the six unsuccessful bidders as Boroughmuir, Heriot's, Watsonians, Melrose, Ayr and Stirling County were awarded entry.
Hamilton struggles to understand the reasoning behind awarding Edinburgh three franchises to Glasgow's none.
"There are more players in Glasgow than any other district," Hamilton said.
"I think that needs to be reflected in most of our thinking and strategy in Scottish rugby.
"We're obviously extremely disappointed, not just on the basis of Glasgow Hawks' interest but for the city of Glasgow.
"The fact there will be no franchise in the city I think is, frankly, illogical and makes very little sense to me. Particularly given there will be three of the franchise operations in Edinburgh."
The new Super 6 league set-up is designed to bridge the gap between the amateur and the professional game.
Scottish Rugby hopes to have the new league up and running for the start of the 2019-20 season.
Hamilton supports the concept of a semi-professional league and thinks "this level of rugby and this tier of rugby is an important development in Scottish rugby" but believes it must be expanded to at least eight teams to make it viable.
He also thinks, given Glasgow Warriors' central role in the recent revival in Scottish rugby, it is a mistake not to capitalise on that by basing a franchise in the city.
"Glasgow Warriors have been tremendously successful," Hamilton told BBC Scotland. "A little less successful in the past week, Warriors losing to Edinburgh.
"This seems to be the second victory for Edinburgh in a week - they're winning 3-0.
Scottish Rugby's new domestic set-up, from season 2019-20
A semi-professional "Super Six" replaces the amateur BT Premiership
Directly below this will be an all-amateur 12-team Championship
This will sit above a three-tier National League system
"The six organisations that have been selected will do a good job, I have no doubt about that.
"They will carry the interests of Scottish rugby forward, but it does seem to me to be a major hole in the strategy to omit the city of Glasgow.
"Hawks was established 20 years ago in effect to provide a performance pathway for the top rugby talent in this part of the world. It's a shame that platform is now going to be removed.
"We had a very strong bid in our view, supported by Strathclyde University, Glasgow University and the Royal Navy, as well as three other rugby clubs.
"We thought that was a very strong organisation that could have made quite an impact in this tournament. That opportunity has been denied us. We need to take a bit of time to reflect on where we go from here."
'Club rugby is dying a slow death'
Former Scotland Sevens captain Colin Gregor thinks the Super Six is a positive step for Scottish rugby and should receive support from everyone involved in the club game.
"There is a lot of scepticism around it, but something needs to be done," Gregor said.
"I think the way the club game is going in Scotland, it's just sort of dying a slow death.
"Scottish Rugby have done their research, they've decided this is the model to go for, so I think back it.
"Let's get behind it. Well done to the six clubs that have got the Super 6 nominations. Commiserations to the others, but let's really support it. Rather than thinking, 'It'll never work', let's give it a shot."
Gregor believes Scottish Rugby and chief executive Mark Dodson deserve credit for addressing the problems in the club game.
"It is decisive action," he added. "When you look at what was initially proposed, they've worked really hard and gone out to all the clubs.
"I know guys at various different clubs and they've been impressed that Mark Dodson has gone out and met a whole heap of clubs and different people.
"There's been an element of flexibility. Yes, the Super 6 is happening and Scottish Rugby has been clear on that, but they've taken each of the franchises on their own merits and the issues and concerns they may have raised.
"They've listened and adapted and been very proactive in their response to it."