Leicester Tigers: What's behind Premiership club missing out on play-offs?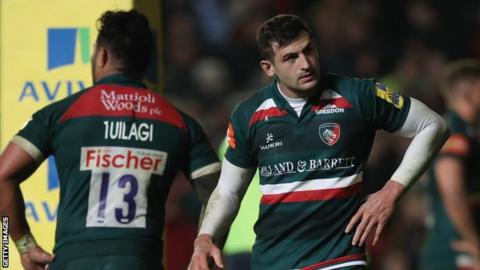 Something incredibly rare happened for Leicester Tigers on Saturday - their Premiership season ended after 22 games.
Tigers' 35-13 win at Sale on the last day of the regular campaign was only good enough to finish fifth in the table, level on points with Newcastle Falcons, who claimed the final play-off spot by virtue of having won one more game.
Leicester missing out is the rugby equivalent of Roger Federer not making the second week of Wimbledon or Real Madrid not qualifying for the Champions League.
In fact it is 14 years since Leicester last failed to have a chance to win the Premiership title by reaching the play-offs - and in that 2003-04 season it could be argued the Tigers were the victims of their own success as seven of their best players were in the England squad that won the 2003 World Cup.
So what has gone wrong at Welford Road this season?
Forwards going backwards?
"The lack of a forwards coach for a large part of the season was instrumental in where we ended up," head coach Matt O'Connor told BBC Radio Leicester.
In fact, the Tigers were without a forwards coach for around five months from when Richard Blaze left the club in September until Mark Bakewell's appointment in February.
"We've made some great strides since Mark's joined us and I think we'll continue to do better in that space," added O'Connor.
"To have Ben Youngs, George Ford, Manu Tuilagi, Matt Toomua, Telusa Veainu and Jonny May not get the ball from the scrum is something we've got to look at."
When the Tigers dominated English and European rugby from the late 1990s to the middle of the last decade, their forward pack was a who's who of brilliance.
Martin Johnson, Neil Back, Ben Kay, Martin Corry, Lewis Moody, Graham Rowntree - names that struck fear and admiration into opponents in equal measure.
"I didn't realise until there was an open forum a couple of months ago, that someone revealed that Matt O'Connor had been doing some of the forwards' coaching," former Leicester and England hooker George Chuter told BBC Sport.
"It was incredible for a big club like Leicester," added Chuter, a contemporary of some of those great Tigers and England names who won 24 international caps between 2006 and 2010 and came on in the 2007 World Cup final defeat by South Africa.
"Matt's a good coach, he knows his rugby and has been around a lot, but the intricacies of coaching a forward pack are more than just running around the corner and doing the set plays.
"It's all about the set pieces, the slow ball, the small technical finer details which, with all due respect to backs coaches, they probably don't really understand having not played there.
"To compete with some of the bigger teams in the league without that sort of experienced guidance from a forwards coach is very difficult."
Lack of depth?
Leicester had four players in the England squad for this year's Six Nations - prop Dan Cole, scrum-half Youngs, fly-half Ford and winger May.
"While that is great when they are all fit and firing, they do miss large chunks of the season due to the Six Nations and autumn internationals," said BBC rugby union reporter Chris Jones.
"What a few clubs are finding is having England players on your books is something of a poisoned chalice as they're away a lot of the year, there's extra pressure to play them because of their salary and quality, but are you always getting that high level of performance?
"George Ford is a case in point - no-one doubts what a great player he is - but you could argue that Leicester have played their best rugby when Matt Toomua was at fly-half.
"If an England player is only available for 10 games a season and are off form or a bit jaded, you might only get five really good performances out of 22 in the league."
So is there a lack of depth at Welford Road compared to some of the other top clubs?
"The guys below the first XV have, with all due respect to them, not got the same depth as we had back then," said Chuter, who played in seven Premiership and four Heineken Cup finals during his 14-year career at Welford Road.
"We had a lot of really good club men who were never away with international sides.
"Looking at the squad now, just below there are a lot of youngsters, a lot of guys who are not very familiar with the club.
"They've got nothing to really fall back on, no real strong squad that's been together for four or five years like we had back then.
"That's a pretty big deal when you lose your best players, whether it's injury or international call-ups and sometimes it can be hard to recover from that."
Other clubs moving ahead
When Leicester last missed out on the play-offs in 2004, current champions of England, Exeter, were finishing sixth in the old National One - the second tier of English rugby.
Since then Exeter have gradually built themselves up into a force both on and off the field - the Chiefs are the only one of the 12 Premiership clubs that currently make a profit.
Chuter argues that Exeter - in turning players such as prop Harry Williams and flanker Don Armand into England internationals - are doing what Leicester used to do.
"What that 14-year run has done is almost make the club a bit complacent," added Chuter.
"They're not taking into account the extra competitiveness of the league and I think the recruitment's mirrored that.
"They haven't recruited the quality that perhaps we did in the past with some of the rough diamonds that we turned up from nowhere.
"It's difficult to put your finger on why that is, but you have to look at recruitment and the depth of squad as one of the big issues for the situation they're in now."
Recruitment is a big priority for Leicester - this summer the pack appears to be of particular focus with Wasps' Guy Thompson and Worcester duo David Denton and Will Spencer all joining Tigers.
"There's four or five quality bodies coming into the back five, and that's an area that we've probably been a little bit deficient in relation to class and in relation to depth, so that'll make a significant difference," said O'Connor.
"You can't expect to be at the top of the table if you don't win the bulk of your collisions and the bulk of those collisions are guys in the back five of the scrum, and that's where we need to be better."
A one-off or a sign of a decline?
Leicester undoubtedly have a talented squad with the firepower to beat any side on their day.
But this season they have been beaten nine times in the league - the most for a decade.
"The challenge for us is going to be in and around consistency," said O'Connor.
"On a wet night and through the Christmas period you've got to have that ability to grind out an arm-wrestle and we probably haven't done that enough this year."
England and British and Irish Lions prop Cole has been an uncompromising fixture of Leicester's front row for the best part of a decade, and says he does not want a repeat of this season again.
"The fans have to trust in us and we have to trust ourselves that we've got an off-season to get it right," he told BBC Radio Leicester.
"In the off-season we've got to move forward because a club with the history we have, the aspirations we have, we know where we need to be.
"We know where we want to be and we're going to work damned hard to try to get there."