Munster v Edinburgh: 'If we're in the game with 20 minutes to go, we'll win' - Richard Cockerill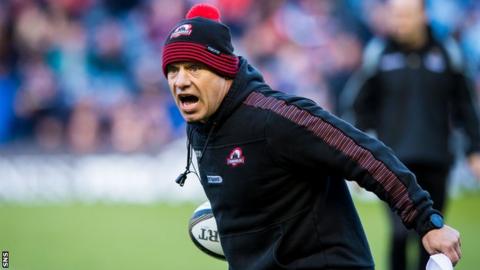 Pro14: Munster v Edinburgh
Venue: Thomond Park Date: Saturday, 5 May Kick-off: 15:15 BST
Coverage: Watch on BBC Alba
Richard Cockerill believes Edinburgh can sink Munster late on if they can stay with the Irish side for the first hour of their Pro14 play-off tie.
The Scottish side are appearing in the end-of-season play-offs for the first time, and go into the quarter-final in Limerick as big underdogs.
But head coach Cockerill believes his men can turn the famous Thomond Park atmosphere against the hosts.
"We've got to control the game as best we can, keep the crowd quiet," he said.
"If we're in the game with 20 minutes to go, we'll win.
"They're the home team. They're the team that have got to produce something to win.
"We don't have to entertain, we're just going there to play our strategy to win the game. If we can do that, and we're in the mix with 20 to go, we're good enough to beat this side."
'We're not going there to lose'
Having finished no higher than eighth in the previous seven Pro12 campaigns, Edinburgh ended their regular-season fixtures sitting third in Conference B, with 15 wins from 21 matches.
Only inter-city rivals Glasgow Warriors have matched their haul of victories.
But while Edinburgh have exceeded all league expectations this term, Cockerill says nobody in the camp is prepared to accept their season is coming to an end just yet.
"We're not going there to lose," the former Leicester and Toulon coach continued.
"Our season's not over, we want to go there and try and win. Glasgow have been the best side in the league the whole season - we've beaten them twice, the only team to do that.
"Let's not be defeatist and think, 'we've had a good season, let's go, enjoy the day and have a couple of beers after'. Let's go there and try and win."
Cockerill admits he is intrigued to see how his players, who have raised their level so impressively this season, perform in the heat of the Thomond Park cauldron.
"We're playing one of the powerhouses of European rugby in a knockout," Cockerill added.
"This is big time rugby. This is 25,000 people shouting for the guys in red and Edinburgh trying to deal with that.
"Some of our guys have never played in this environment. None of them have played in play-offs, unless they've been at Glasgow. This is the first time for us.
"This is the sharp end, as a coach, as a player, as an Edinburgh supporter, this is what it's about. I want the players to be proud of what they've done this year and be proud of what they do on Saturday, as well as the city and our support base."