Danny Wilson: Cardiff Blues need new recruits, says departing boss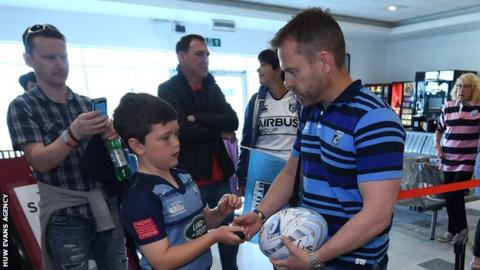 Departing Cardiff Blues boss Danny Wilson says he has left a "great foundation" for successor John Mulvihill.
But after winning the Challenge Cup and securing a top-tier 2018-19 Champions Cup place, Wasps-bound Wilson says they must recruit for what lies ahead.
Wilson's tenure ended with a dramatic Challenge Cup win over Gloucester.
"They are going into the Champions Cup and that is a whole different ball game," said Wilson.
"In certain positions there is still a fair bit more that needs to be done in terms of recruitment. There are good foundations and a group here who are self-managed with good leadership.
"They can go onto bigger and better things again."
'Fantastic youngsters'
Wilson's three seasons in charge ended with a 31-30 win over Gloucester on Friday in Bilbao in the second-tier Challenge Cup.
He has no regrets about moving on to the English Premiership and told BBC Radio Wales Arms Park chiefs must ensure Australian Mulvihill can add fresh faces to bolster the squad.
"I think there is a great foundation there for the next coaching group to build on.
"There are some fantastic youngsters coming through starting to become established figures and there are also some experienced figures there.
"Ultimately that has to be built on and definitely more recruitment needs to be done."