Cornwall knocked out of County Championship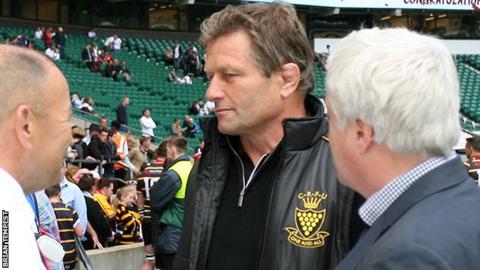 Cornwall coach Graham Dawe says he expects criticism after the Duchy were knocked out of the County Championship.
A 20-19 loss to rivals Devon, coupled with a draw against Surrey, means Cornwall will miss out the Twickenham final for the first time since 2012.
"It's tough because we've had great momentum over the years, and we're somewhat spoilt and somewhat expectant, aren't we?" Dawe told BBC Cornwall.
"I'll no doubt get a few arrows pointing in my direction."
Cornwall have won two and lost three of the last five County Championship finals - Dawe has led the Duchy to the final in the four previous seasons.
This season a number of experienced players have left the Cornwall fold, while Plymouth Albion's extended campaign in National One has meant some of their players have been unavailable.
"I want to win as many games a possible and I'll be trying to do my best to try and do that," added the former England and Bath hooker.
"I understand the disappointment and I've got to accept that.
"I've got a lot to give to Cornwall rugby, I totally enjoy it and I love bringing young players on, and it's great to see Penryn and Wadebridge boys playing for Cornwall."
Asked if he would coach Cornwall again next season, Dawe added: "I'm at the mercy of the CRFU, if they ask me to coach I'll coach, if they don't want me to coach I won't coach, I've got no issue with that."