John Barclay column: Glasgow v Scarlets 'should be outstanding' Pro14 semi-final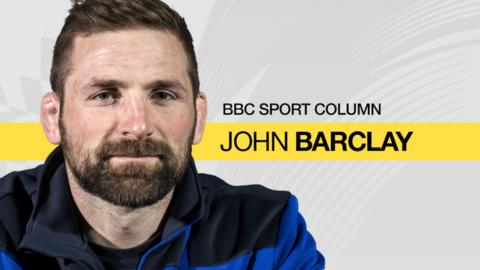 Pro14 semi-final: Glasgow Warriors v Scarlets
Venue: Scotstoun Stadium, Glasgow Date: Friday, 18 May Kick-off: 19:45 BST
Coverage: Live on BBC Alba & BBC Two Wales, BBC Radio Scotland, BBC Radio Wales, BBC Radio Cymru & BBC Sport website and BBC Sport app
This past month has been a bit surreal. Our house in Wales has been sold and my wife and kids have returned to Scotland.
Without the family around me I've been living the life of a nomad, moving from my lodgings in James Davies' house to Gareth Davies' house as my time with the Scarlets nears an end.
I've gone from looking after three kids at once to one at a time with these lads. Staying on the move has its advantages. The longer you stay in one place the more you're expected to do around the house.
Guest status suits me. Gareth has taken over from Stuart Hogg as my play-thing. Those who follow me on Instagram will know what I mean.
I've had pangs about my move away from Wales, I don't mind admitting it. Not pangs of regret about the decision I made to join Edinburgh next season. I'm really excited about that and really looking forward to moving home again at a time when Richard Cockerill has really turned things around. No. You don't spend five years with the Scarlets and experience the things I've experienced and not feel sadness at it ending.
It was weird today. Driving to the stadium and wondering if this was the last time I'd make the journey. If we beat Glasgow on Friday in the Pro14 semi-final then the show goes on and we get a chance to defend our title in the final, but if we don't, that's it. It's over.
Professional sport moves so fast. After we won the Pro12 final last May, there wasn't much time for the boys to savour it as a group.
The lads in the Lions squad were up and away by 6am the next day. Then the Welsh internationals disappeared and I disappeared straight after them. I had Scotland camp at St Andrews ahead of our summer tour - and I was the first player there. I was sitting in my room on my own at six in the evening with a takeaway thinking, 'This is a bit rubbish'.
There was no great fanfare for the victory, no big homecoming. It was our greatest day as a Scarlets team, the product of years of hard work and there was nowhere near enough time to enjoy it together. Everybody just scattered. That's the way it is.
After the semi-final on Friday I'll head back down the road on Saturday. I'll attend our awards night that evening and who knows what's going to happen then.
I'm either staying where I am for another week and preparing for a final and a chance to defend the title, which would be extra-special, or I'm getting in the car on Monday and pointing it in the direction of Edinburgh, my years as a Scarlets man officially over. If we don't win this game at Scotstoun, that's going to be a long and miserable drive.
'I learned how to laugh at myself'
I've taken the odd moment to think about the times I've had here. Weeks, months and years - five of them in my case - go by and you don't take stock of where you are. There's not much time to sit back and ponder. I've tried to make a point of doing that in the last few weeks.
Moving to the Scarlets five years ago was a great rugby decision but it was also an important move in terms of growing up. I'd been with Glasgow for a long time and I was probably getting a little bit cliquey and a little bit stuck in my ways.
I came here and had to force myself to be a bit more open. The banter down here can be quite ruthless and you sink or swim. I learned how to laugh at myself and I'm not sure I was too good at that before. I'm more self-deprecating than I was before I arrived.
So many things have changed. I had a four-week old baby and a stalled international career when I came here first and I'm going home with three kids and an international career that is massively enjoyable again.
In my last home game, against the Cheetahs, last weekend, our coach Wayne Pivac took me off with 20 minutes to go and I got a standing ovation from the Parc y Scarlets crowd.
I was coming off the pitch and my eyes were filling up. I looked over at Mark Taylor, our manager, and he mouthed the words, 'Don't cry!' It's something I'll remember for the rest of my life.
As a non-Welsh player it's something very special to get an ovation like that. Players come and go and not everyone makes an impact. For the fans to treat me like one of their own is an honour that will stay with me forever.
This game at Scotstoun should be outstanding. These are the ones you love, the ones you get really excited about. Not every game is going to be a classic. We've all played in plenty of turgid ones, but if this semi-final goes the way everybody is hoping then it's going to be fast and furious.
Games like this fly by. I love playing in matches where you don't have time to think, where you're just in that bubble for 80 minutes, as intense as can be. There's going to be 10,000 people at Scotstoun. I remember playing in front of 1500 in my early days there. Some of the attendances were shocking.
Some of the young Glasgow lads might take full-houses as normal now, but those of us who have been around long enough know what it used to be like and what we're seeing now in Glasgow is a tribute to what they've done on the park.
Home advantage has been massive in these semi-finals. For years they always went the way of the home team until we went to Dublin and beat Leinster in last's year's semi and then beat Munster in the final, also in Dublin.
Winning those matches gave us huge confidence going into this season and we made the Champions Cup semi-final on the back of it. It's the furthest we'd ever been. It didn't end well for us in that game against Leinster, but you learn the lessons and you kick on.
We played Glasgow in Llanelli in early April and we won 26-8. I don't think I'm being disrespectful when I say that they didn't fire too many shots that day. They didn't play anywhere near the level they're capable of. We're not reading much, if anything, into that game.
We've lost Leigh Halfpenny through injury and that's a shame for Leigh and a shame for us because he's world class. The good news is that Johnny McNicholl is back and Johnny was one of our best players last season and at the start of the year when he was fit.
Who's favourite? That's a hard one to call. We have pedigree as champions, but so do they. Playing expansive, off-loading rugby is in the DNA of both clubs. Glasgow want to throw it around and so do we. Playing the percentages doesn't hold much interest to either of us. Nine months of matches and it comes down to this.
John Barclay was talking to BBC Sport Scotland's chief sports writer, Tom English.