Wales eligibility 'definitely part of my mind' - Johnny McNicholl
Last updated on .From the section Rugby Union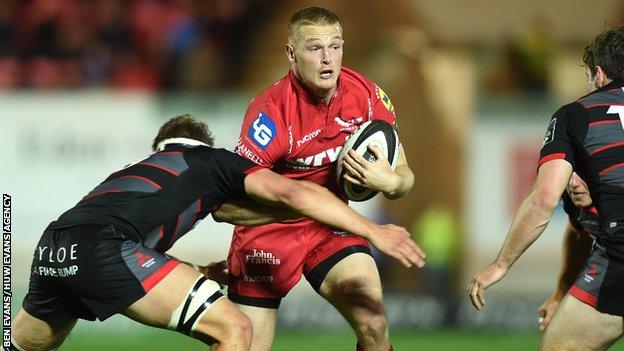 Scarlets back Johnny McNicholl says he has considered making himself available for Wales when he becomes eligible next year.
"When contract time comes up, that will definitely be part of my mind if I want to play for Wales," McNicholl said.
He has seen team-mate Hadleigh Parkes impress in Warren Gatland's side.
A player becomes eligible to play for their country of residence after three years, although that is set to be extended to five years after 2020.
But McNicholl, who can play full-back and wing, is unsure if he wants to wear the red jersey should the opportunity arise.
"I have said before, I don't even know if I want to play for Wales. Am I Welsh? It is a tough question to answer, I don't know," he admitted.
"I am off contract next year so who knows... I might not even be here to stay for the three years."
McNicholl said Wales eligibility was something he had talked to New Zealand-born Parkes about, but they had "different views on it".
Parkes, 30, scored two tries on his international debut against South Africa in December and was one of only three players to start all five 2018 Six Nations matches for Wales.
"He [Parkes] has done really well and gone in there and excelled," said McNicholl.
"He could be the player of the year for them in my eyes, he has gone great, but I don't even know if I want to do that, it is a really tough question to answer."
McNicholl made his Scarlets comeback in Friday's Pro14 semi-final against Glasgow, having previously been ruled out for the rest of campaign.
He said he originally tore his shoulder against Ospreys on Boxing Day before going off injured against Leinster in February.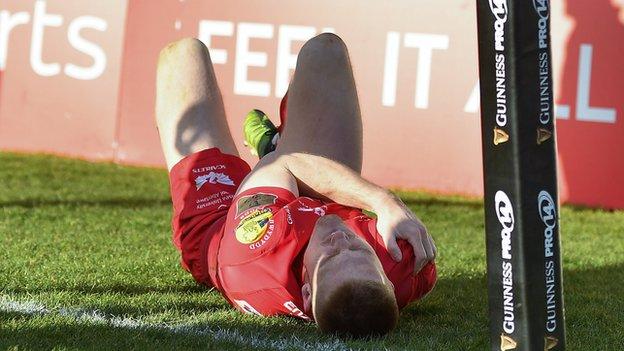 "When I went in for surgery beforehand, the surgeon said to me 'you should really have been able to play with this', but afterwards he said 'mate, you were never going to be able to play'."
"I was kind of relieved because it was not me whinging about how sore it was, there was actually something wrong," said the Christchurch-born player.
After the surgery, he admitted he thought it was the end of his season.
"This shoulder injury back home is a six-month job, so in my head I just thought I am out for six.
"When I got the news after surgery it could be 12 weeks and I could be back playing, there was a carrot there that I could be back for a semi-final and potentially a final and that is what I have done."
He said he suffered "a stinger" to his shoulder against Glasgow, which was "a good test", and he is now fit and ready for the final against Leinster.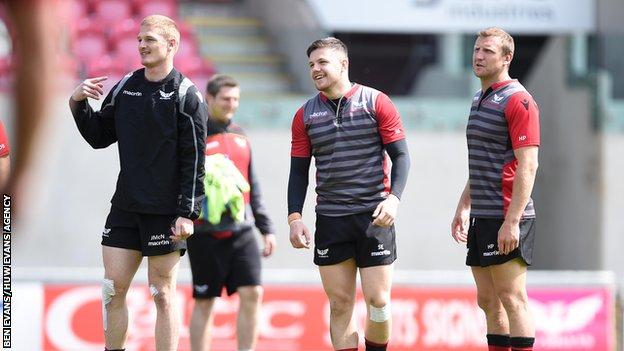 Saturday's showdown in Dublin will be McNicholl's eighth final in eight years, having had success with Crusaders and Canterbury.
"I have just been really lucky to be in good sides," he said.
He recognises the final against European champions Leinster will be "one of the toughest" challenges yet.
McNicholl and his Scarlets team-mates will be looking for revenge after they were beaten 38-16 by the Irish province in the Champions Cup semi-final last month.
"Leinster have won Europe and the depth in that squad is unbelievable," said McNicholl.
"They didn't even field their top team last week and still did the job on Munster. They are a world-class team, they can compete with international sides probably."
But McNicholl believes Scarlets are close to being at their best: "There are just a few errors we need to get out of our game.
"I think we turned over the ball 18 times against Glasgow and you can't do that against many sides and win. We got quite lucky to do that.
"If we can get rid of those turnovers and hold onto the ball this week, we have a good chance of peaking at the right time of the year again."