RFU says it is 'modern' in wake of sexism allegations within organisation
Last updated on .From the section Rugby Union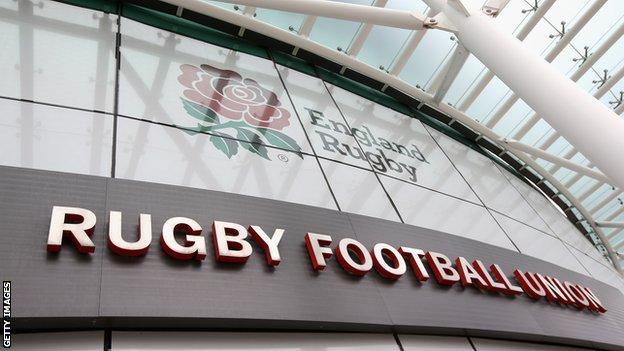 The Rugby Football Union (RFU) says it has a "progressive, modern" approach, after allegations of a sexist culture within the organisation.
The RFU did not deny the allegations.
"We are absolutely committed to ensuring that rugby is a progressive, modern and inclusive game, with strong values at heart," an RFU statement said.
The Daily Telegraph investigation alleged female staff were made to feel uncomfortable at rugby dinners, council meetings and events.
The RFU said: "We are committed to our diversity and inclusion strategy and plan which we are now delivering across volunteers, employees and our fanbase to ensure rugby is an inclusive sport, at every level.
"The RFU will work hard to make sure everybody feels welcome within the sport, and that rugby can flourish everywhere as a game for everyone.
"Around 25% of our constituent body members are now female, we have four women on the RFU board, and 30,000 female players - and we invest more money in the women's game than any other union in the world."